Thinking of the perfect, relaxing getaway? Nothing can beat luxurious overwater bungalows in an exotic island. Imagine waking up beside the sea in a king size bed, with glass floors to view the majestic ocean down below, and breathtaking views of flickering blue waters surrounding your very own private villa.
We've compiled island resorts with the best overwater bungalows that will make you believe that heaven is a place on earth:
If you only had one vacation place to go to in your whole life, make sure to go to Soneva Gili Lankanfushi in Maldives. A truly magical experience awaits you. Be spoilt by your very own butler that will make sure your stay will be as lovely as possible. The overwater villas are all breathtakingly beautiful, each with a private sundeck. Indulge in 5-star quality meals from their restaurants cooked by topnotch chefs. Rest in an overwater hammock surrounded by the clearest turquoise waters, far from the worries of the world. Their luxurious Private Reserve boasts of a private couple's spa, gym, private cinema, water slide that leads into the private lagoon swimming area, roof top terraces with daybeds, two outdoor dining pavilions, and more.
This resort is also eco-friendly and strives to reduce their environmental impacts through waste management and developing the island with respect to its ecological balance. There is so much to do in Soneva Gili Lankanfushi, from barefoot luxury floating in the Indian Ocean, watching a movie in their Jungle Cinema, diving at Manta Point, windsurfing, snorkeling, and yoga. This aquatic paradise is also a perfect wedding and honeymoon location where you can celebrate your love.
Dubbed as the original desert island hideaway in the Maldives, there is so much to discover in Soneva Fushi Resort—from counting Saturn's rings in the Observatory, deciding between sixty flavours of ice cream, eleven types of pillow, five hundred different wines, three to nine bedroom villas, and nine dining options too. If the experiences are magical, the philosophy is simple: No news, no shoes. No pretensions.
Apart from its beautiful villas, you can also enjoy snorkeling with a marine biologist who would gladly guide you to the most beautiful snorkeling spots of the Baa Atoll. Get to encounter various marine life such as mantra rays, whale sharks, moray eels, lionfish, octopus, lobsters, sleeping parrotfish and even bioluminescent plankton. Looking for a more tranquil experience? Have an experience dinner on a secluded beach under the stars. Or, watch a classic movie at Cinema Paradiso, their very own open-air theatre atop the beach, complete with a cushioned lounger, complimentary popcorn, over 60 flavours of ice cream, cocktails and more.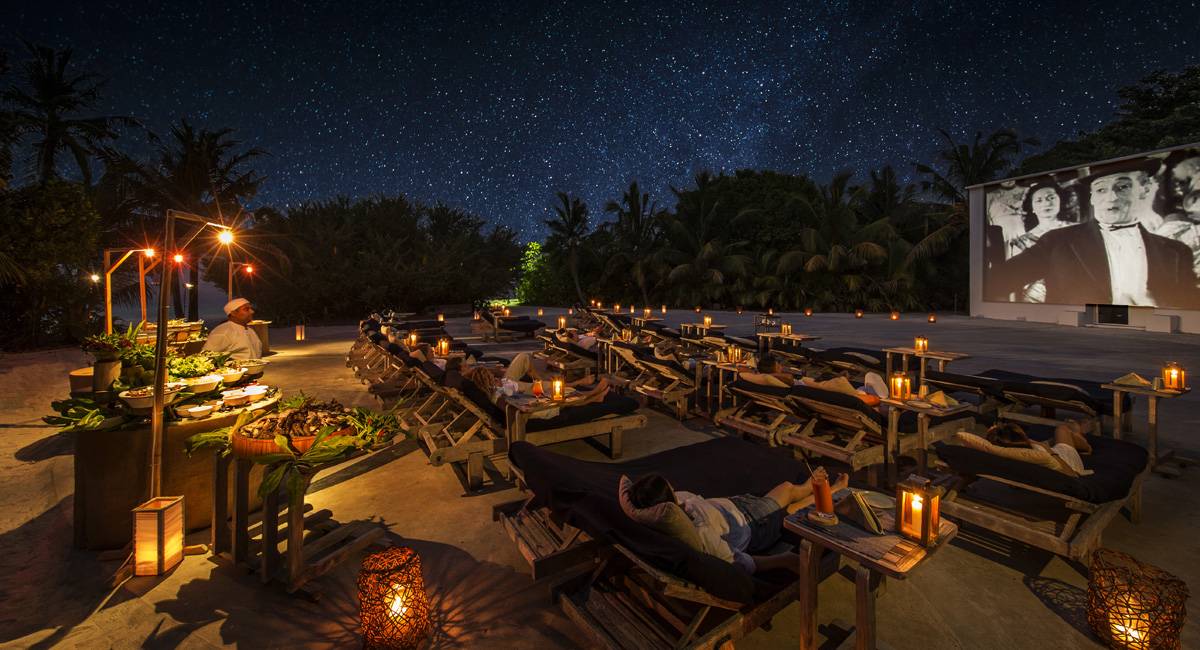 3. Hilton Bora Bora Nui Resort and Spa
Nothing can beat a beautiful escape to the islands of Bora Bora. Hilton Bora Bora Nui Resort and Spa is nestled in the bluest lagoons with the most lavish tropical views. Take a walk in its 800-metre white sand beach or a dip in its infinity sunset pool. Wake up to the sounds of the ocean in your own overwater villa.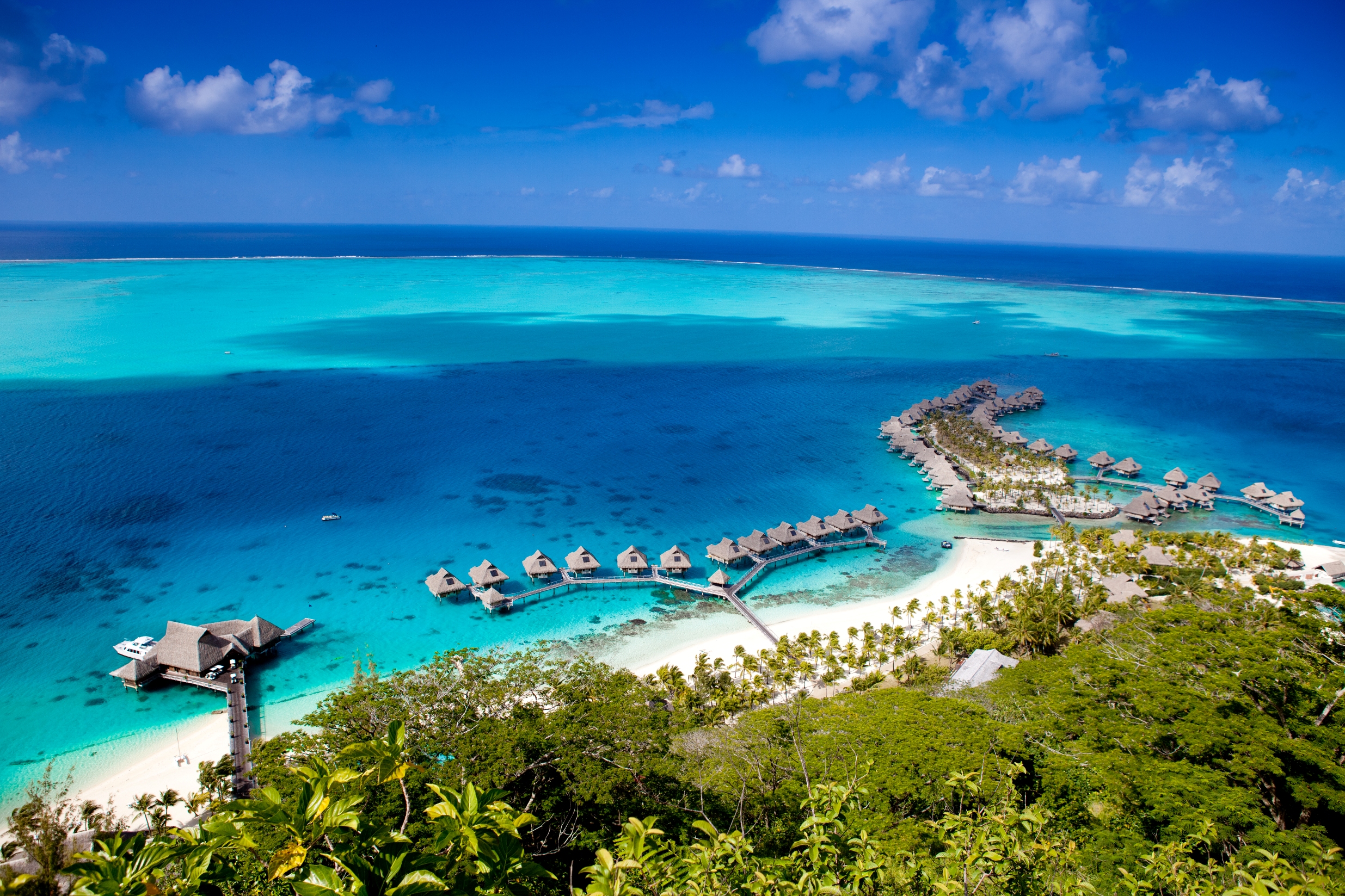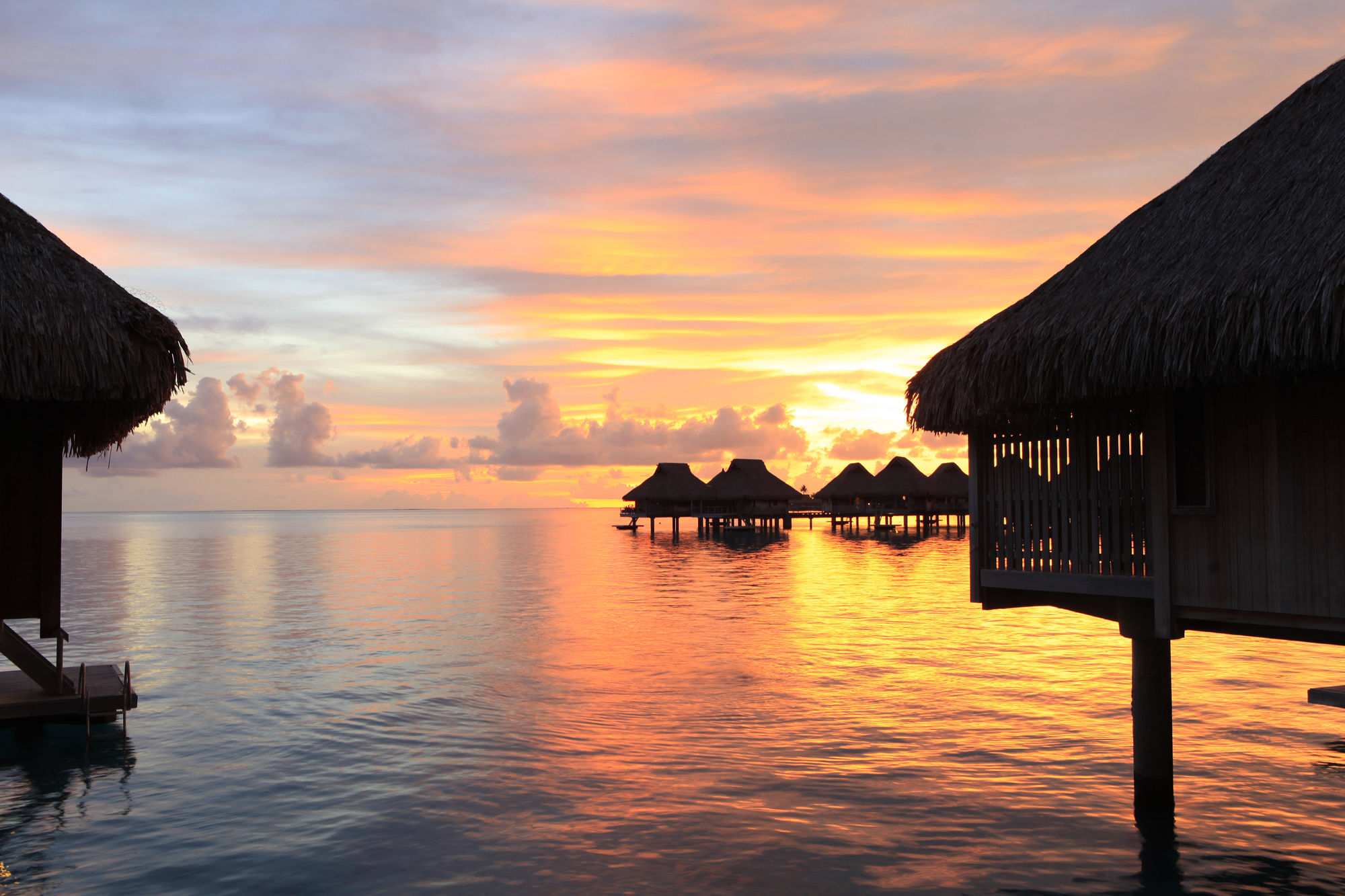 You can also have a romantic dinner for two in their private Motu Tapu islet. Escape in this private island just five minutes away from the resort. In Tahitian, the word "Tapu" means forbidden or sacred because it used to be an exclusive island for a Polynesian queen. Have one of your life's most romantic night with their intimate table for two under the stars. If you're opting for a relaxing time, visit their Hina Spa and get a soothing massage with amazing panoramic views of the lagoon.
4. Cayo Espanto
If you're looking for a more private island vacation destination, the Cayo Espanto in Belize is the place for you. With only a total of seven villas, you and your loved one can get all the privacy you want. Cayo Espanto is a luxurious private island in Belize surrounded by the stunning Carribean sea. Their over water bungalows are dubbed as the most romantic and intimate in the island. Relax in your very own dock or discover the colorful sea life of the Caribbean in their bungalows with glass floors.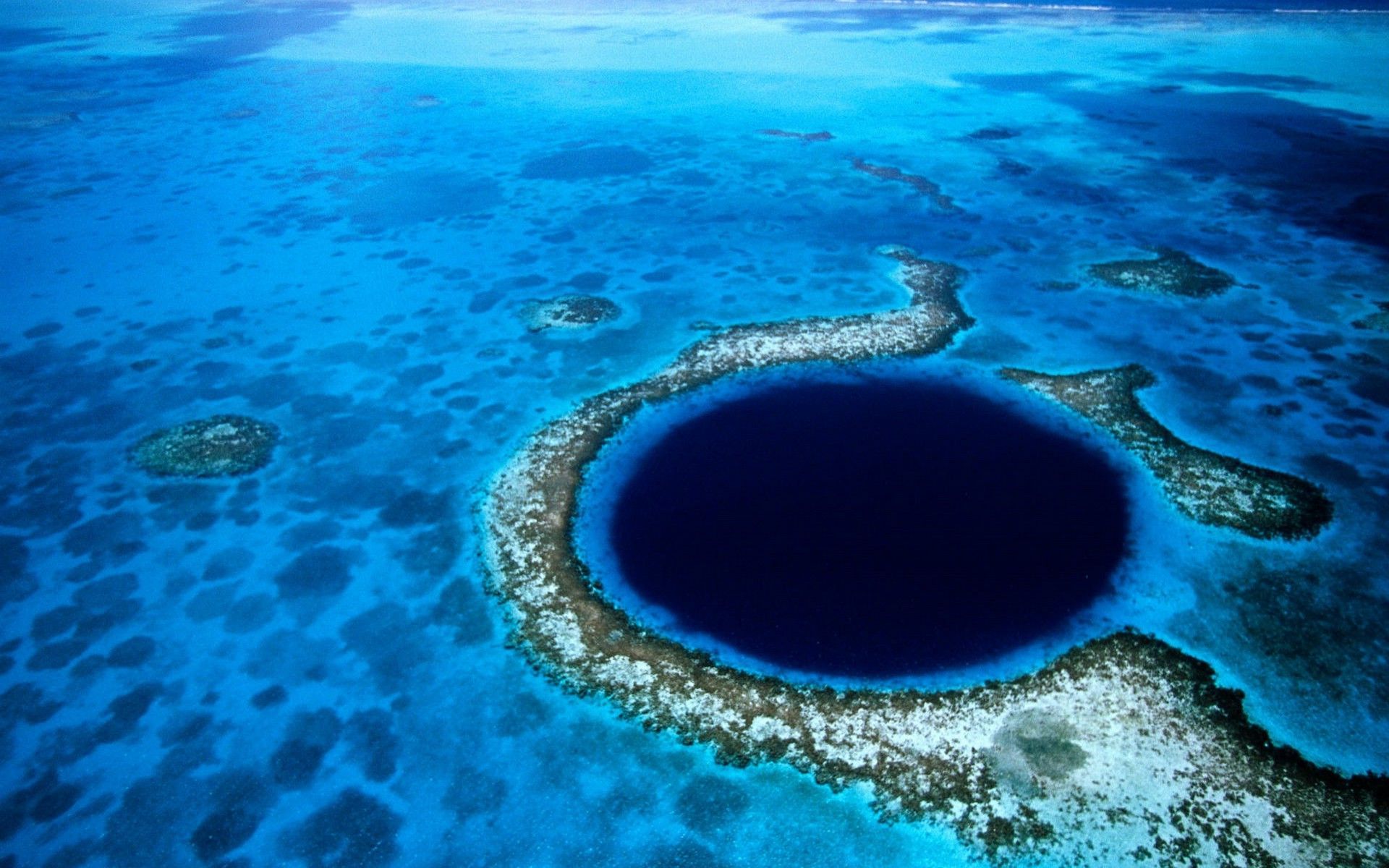 Not only will you get to unwind in privacy, you can also go diving and explore the world's second-largest barrier-reef system. You and your partner can also go bonefishing, windsurfing, catamaran sailing, birdwatching, or avail of their private cruise and exotic jungle tour.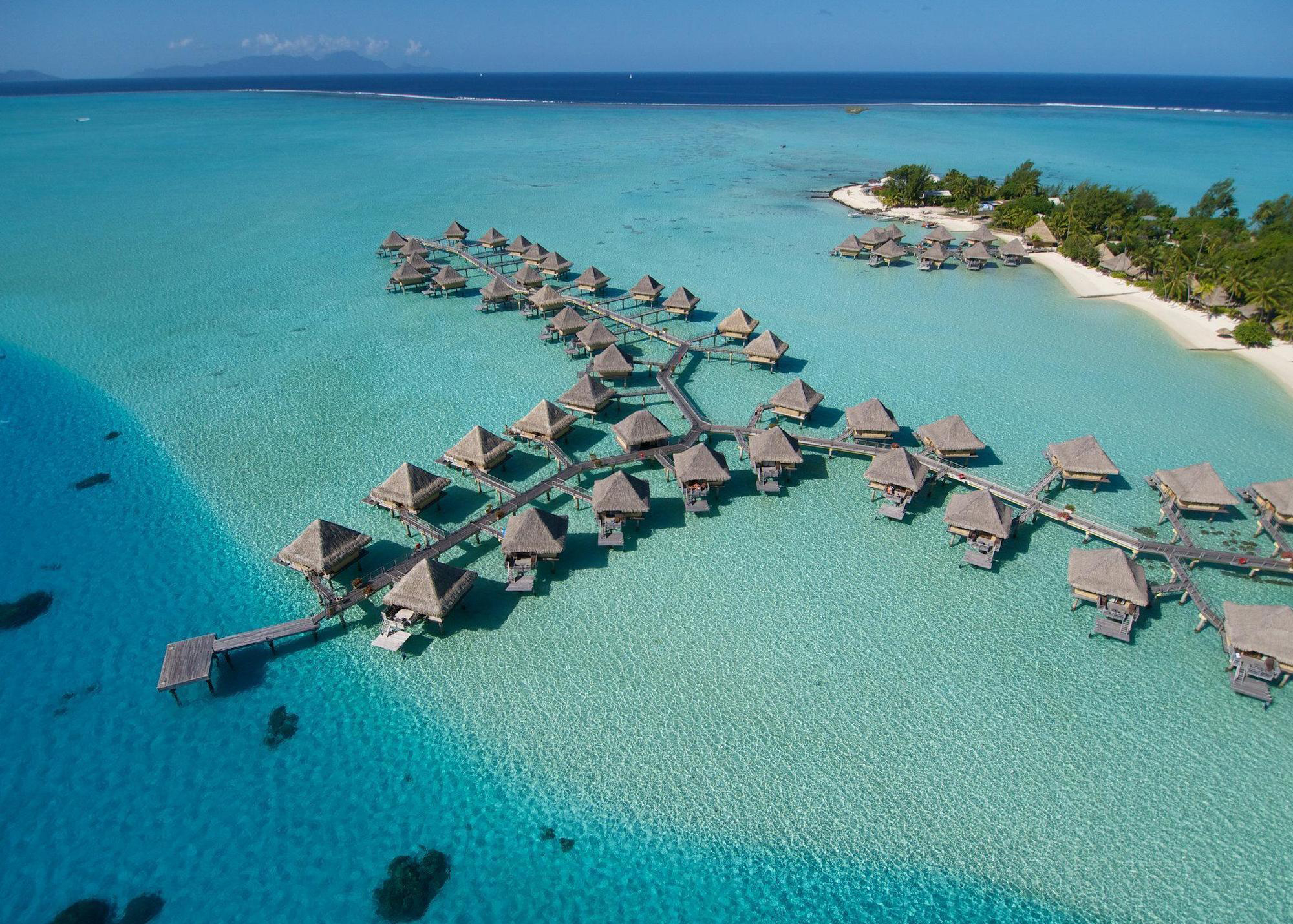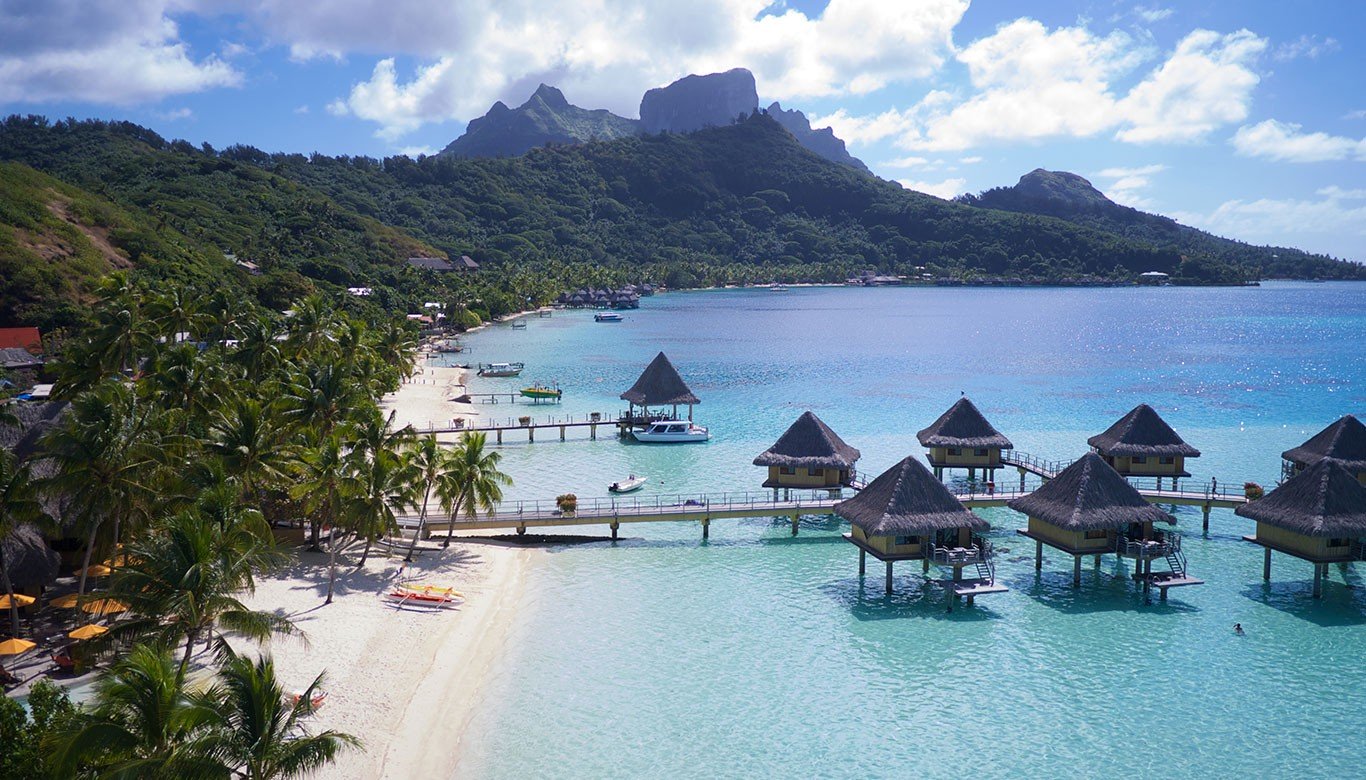 InterContinental Le Moana in Bora Bora is the pride of French Polynesia. With beautiful views of the Otemanu and Pahia mountains, two white sand beaches and horizon overwater bungalows with endless ocean views, this is one of the most beautiful tropical getaways any couple could have. Planning for something romantic to do? Their concierge team can guide you through their list of romantic ideas from candlelight dinners to a traditional Tahitian wedding ceremony.

Discover the islands of French Polynesia with their island-hopping tour If you're feeling more adventurous, you can also opt for activities like snorkeling and kayaking around the lagoon, paddle boards and outrigger canoes.
6. Constance Moofushi Five Star Resort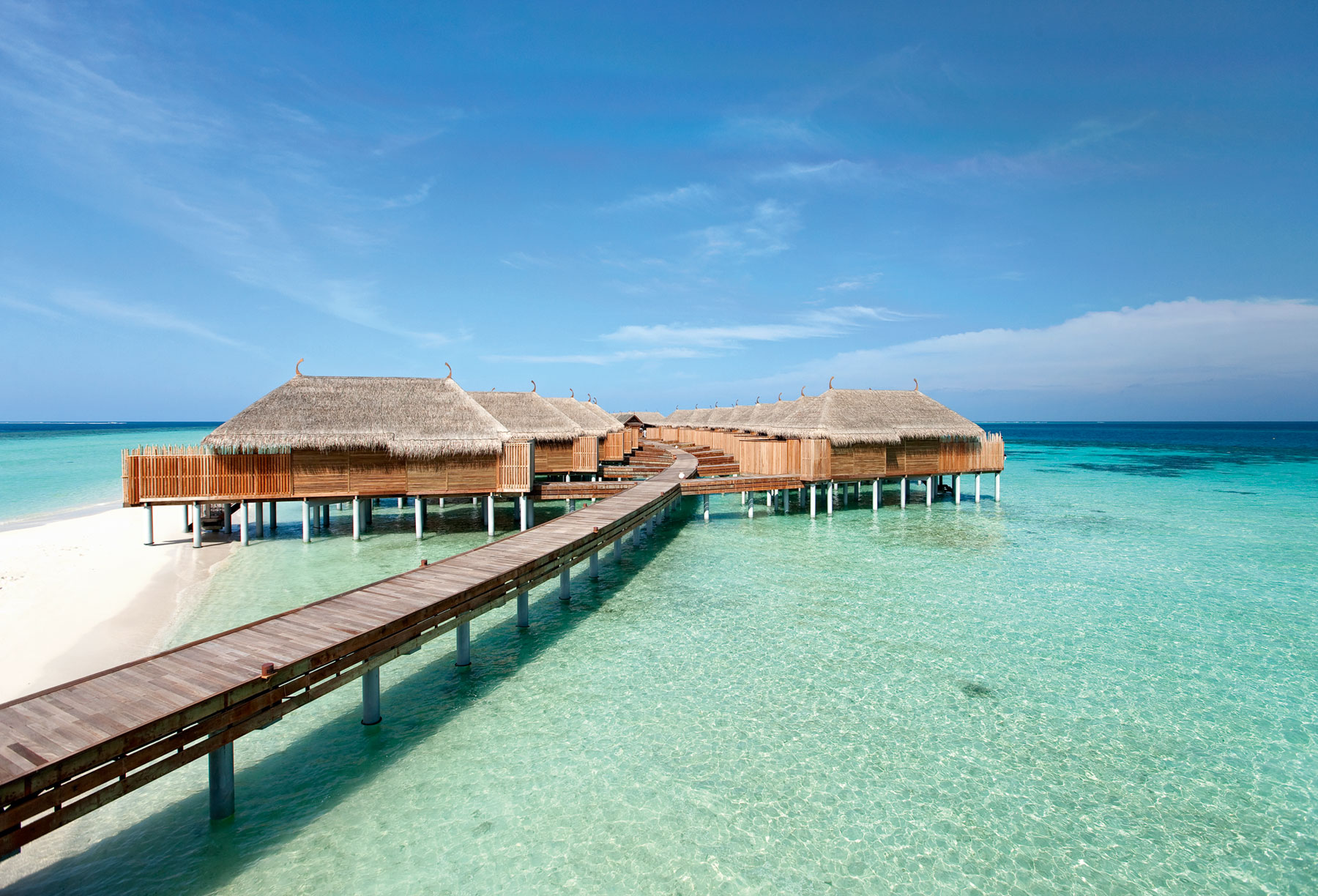 The Constance Moofushi Resort in Maldives is proud of combining luxury and simplicity. It's set on its own secluded island and offers an unforgettable experience with its sand floored restaurant, outdoor cinema, sunset cruise with a traditional Dhoni to dolphin search and big game fishing Maldivian style.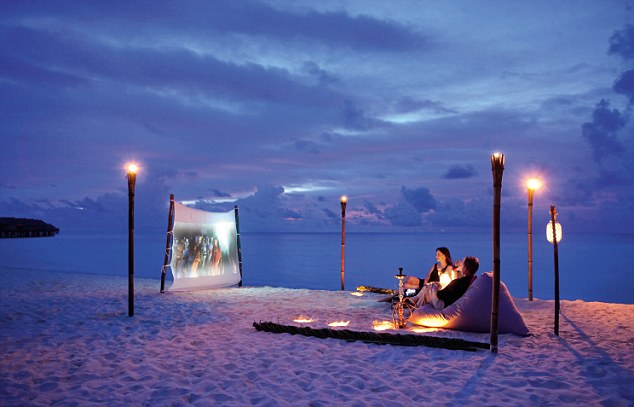 With their outdoor cinema, you can choose from over 100 films and watch it together on the beach under the Maldivian stars. Relax on loungers or beanbags with the soft white sand beneath your feet and the sound of the waves in your ears. Enjoy your movie with popcorn, ice cream, canapés, sparkling wine, beers and soft drinks.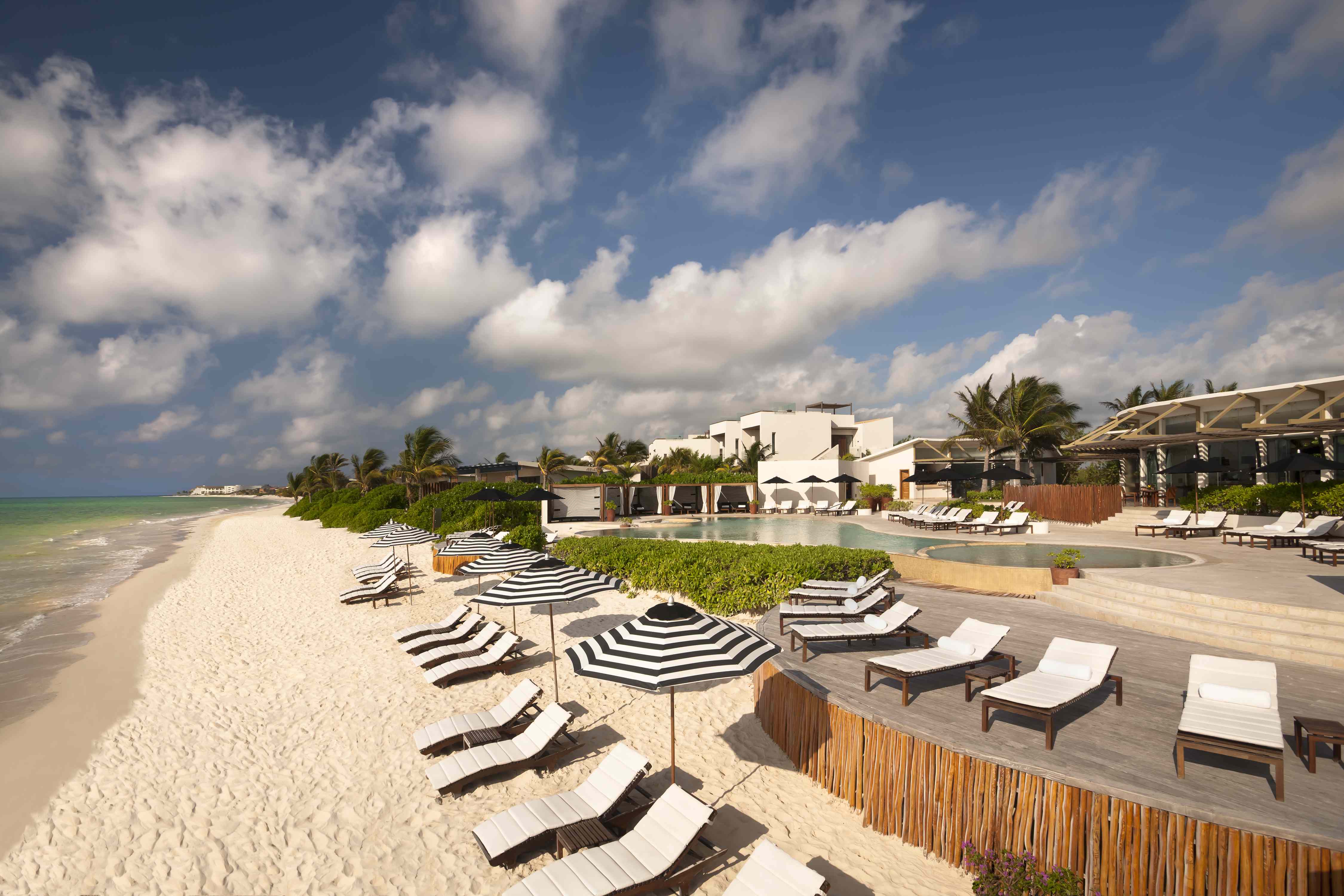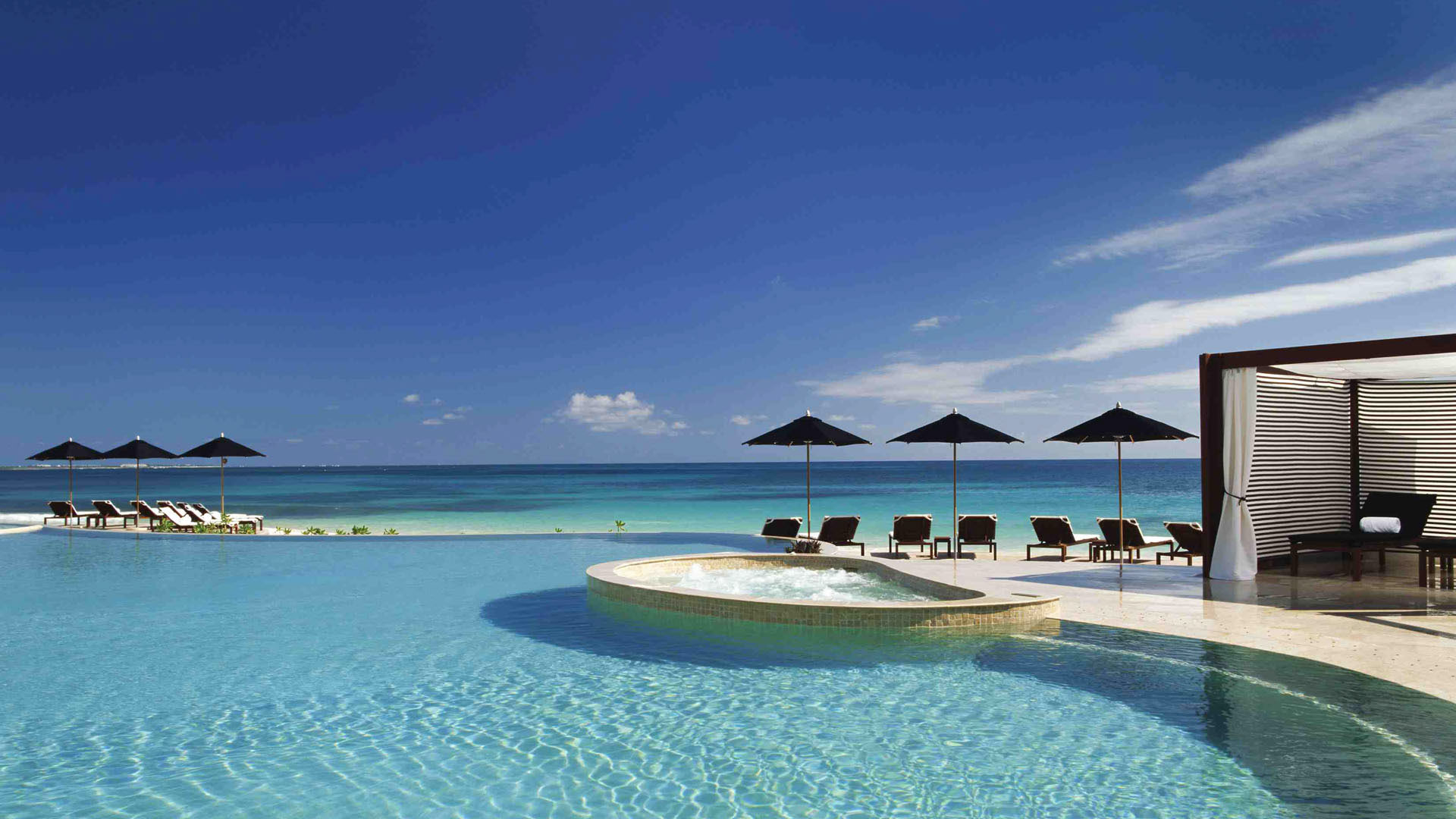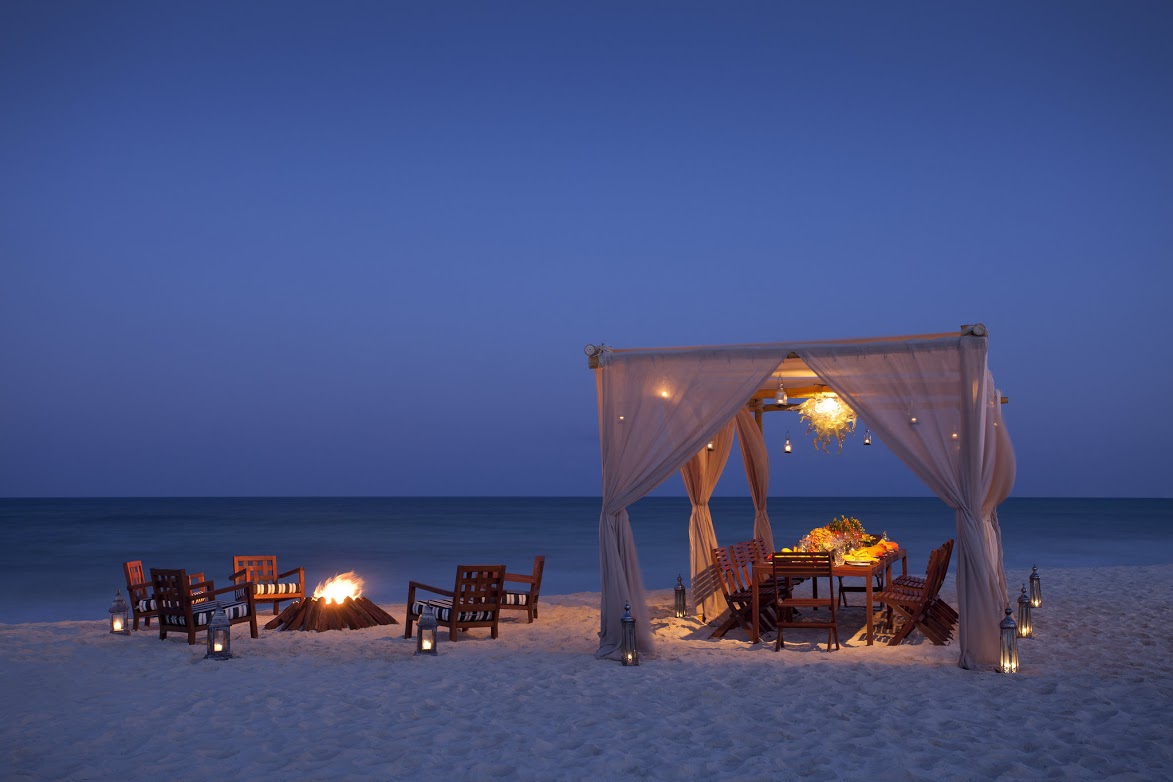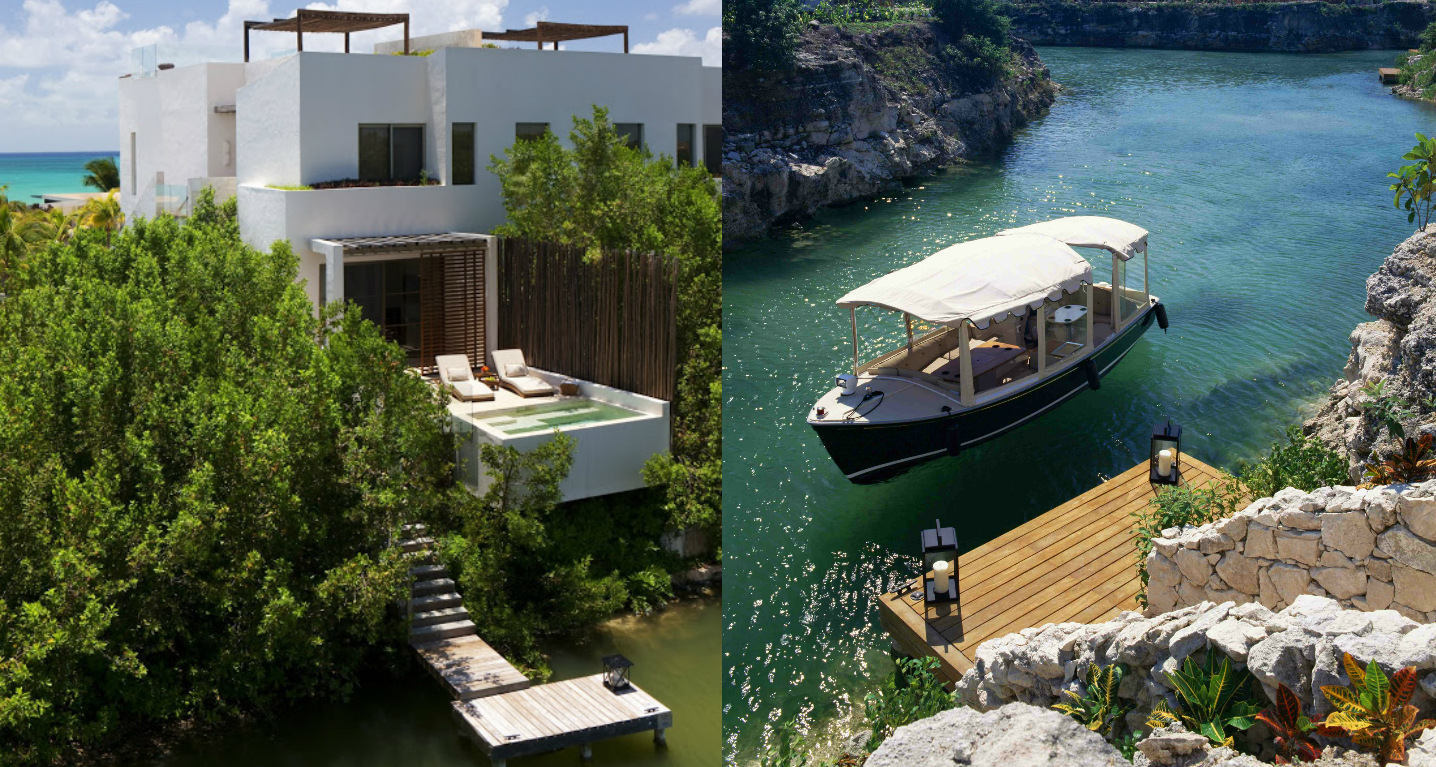 Floating above crystal emerald waters with astounding views of the lagoon, this room is perfect for couples and honeymooners. Enjoy a game of golf in their very own vast golf course, or get a therapeutic massage in their secluded spa hidden by the tropical jungle.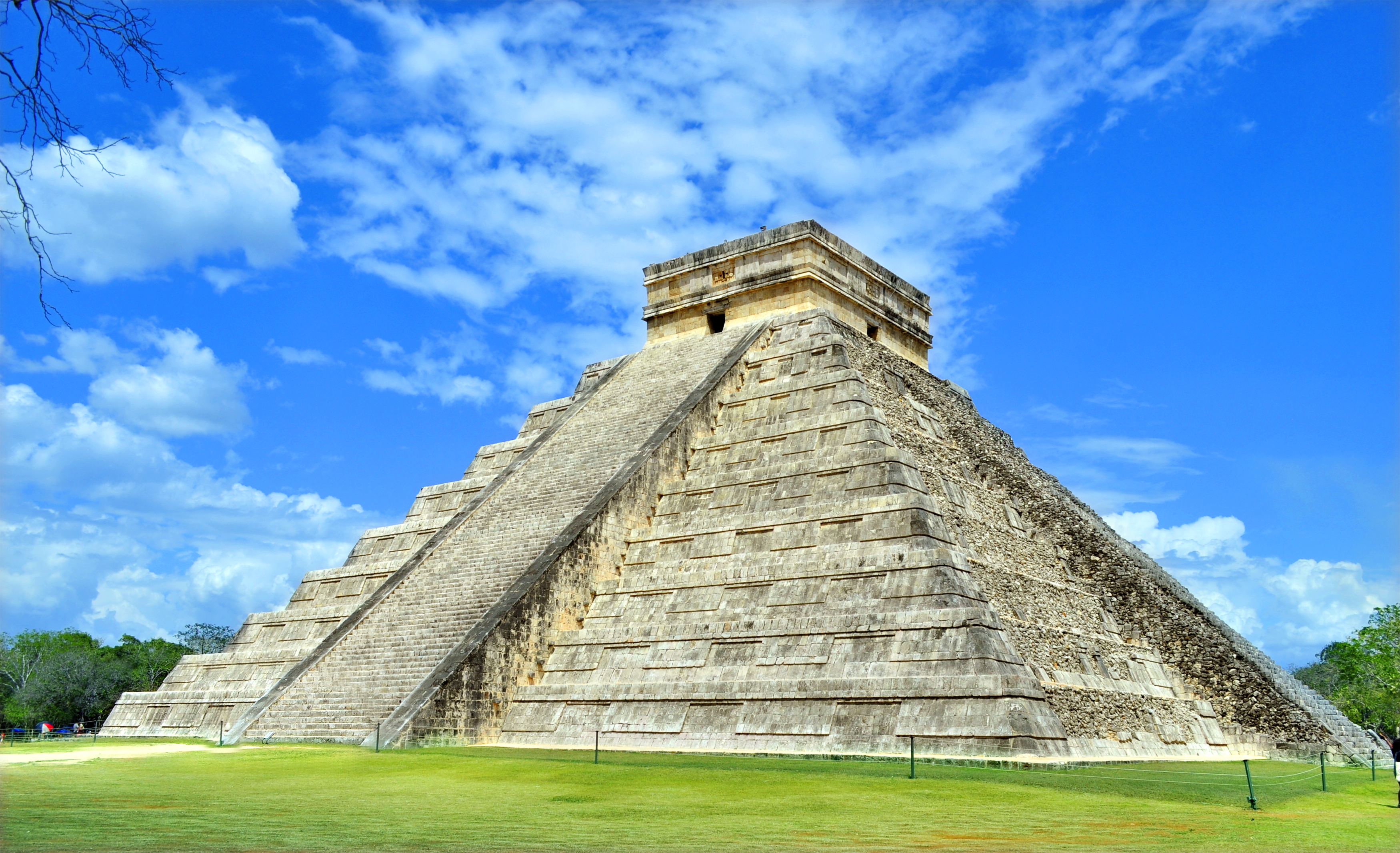 Take an exclusive trip around Riviera Maya from the ruins of Mayan civilization to the best Mexican markets. Other things that can be done around Cancun is to visit the Xel-Ha Park aquatic theme park and Cancun underwater museum, explore the Chichen Itza ruins, or go diving at the Ik Kil cenote and Dos Ojos cave system.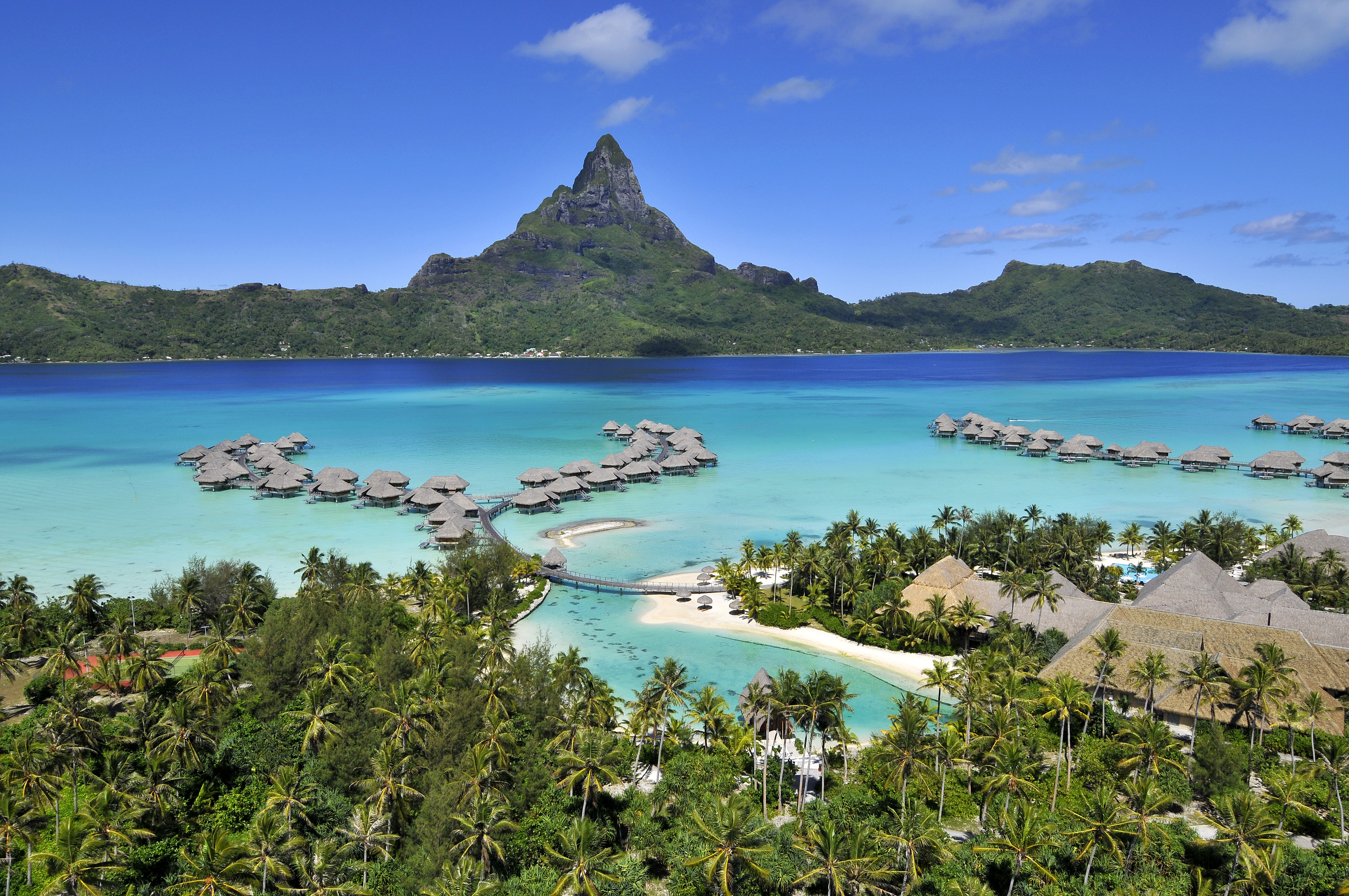 The heart of the Bora Bora resorts, the Intercontinental Thalasso resort rests on a coral islet that can only be accessed through boat. Celebrate your love in this honeymoon hotel with the most spectacular private villas. All their overwater suites have a huge private pontoon for sunbathing, spacious shaded terrace, glass walls, and sun lounges.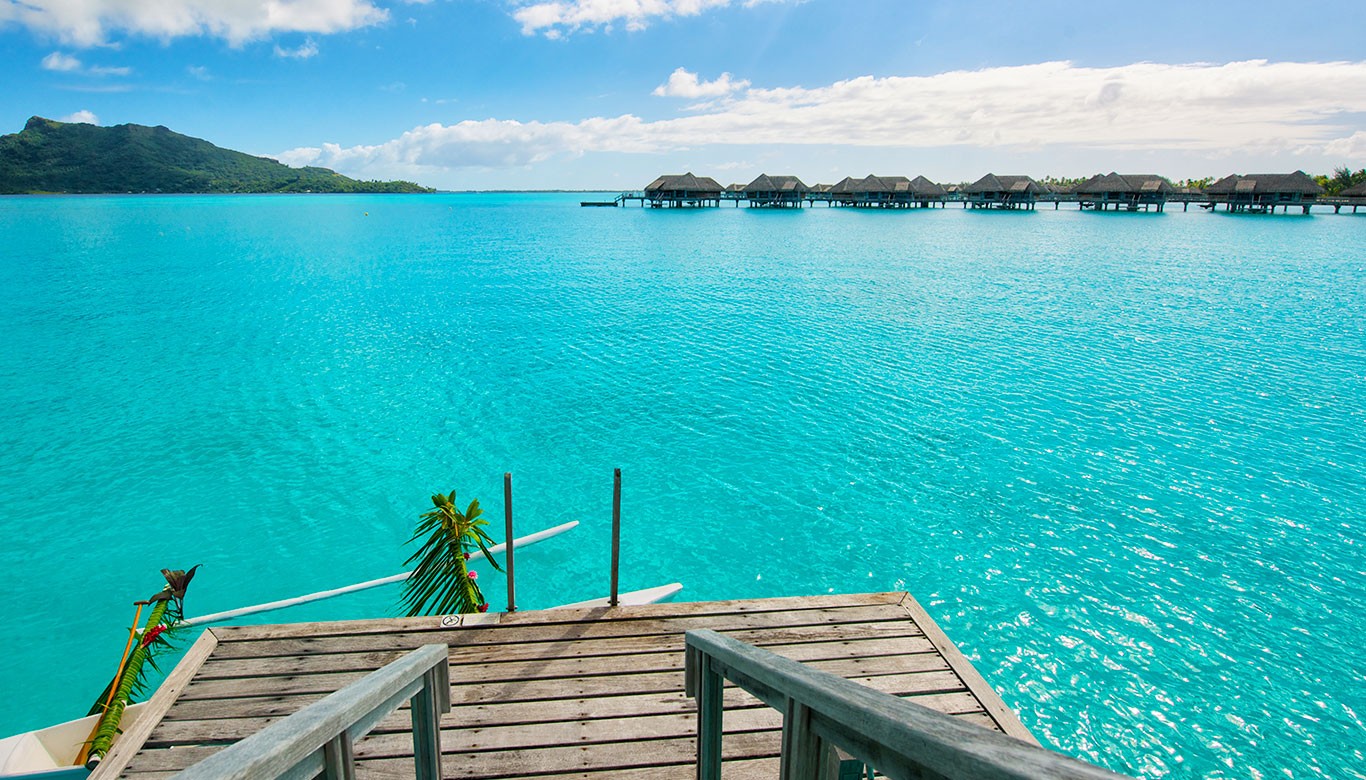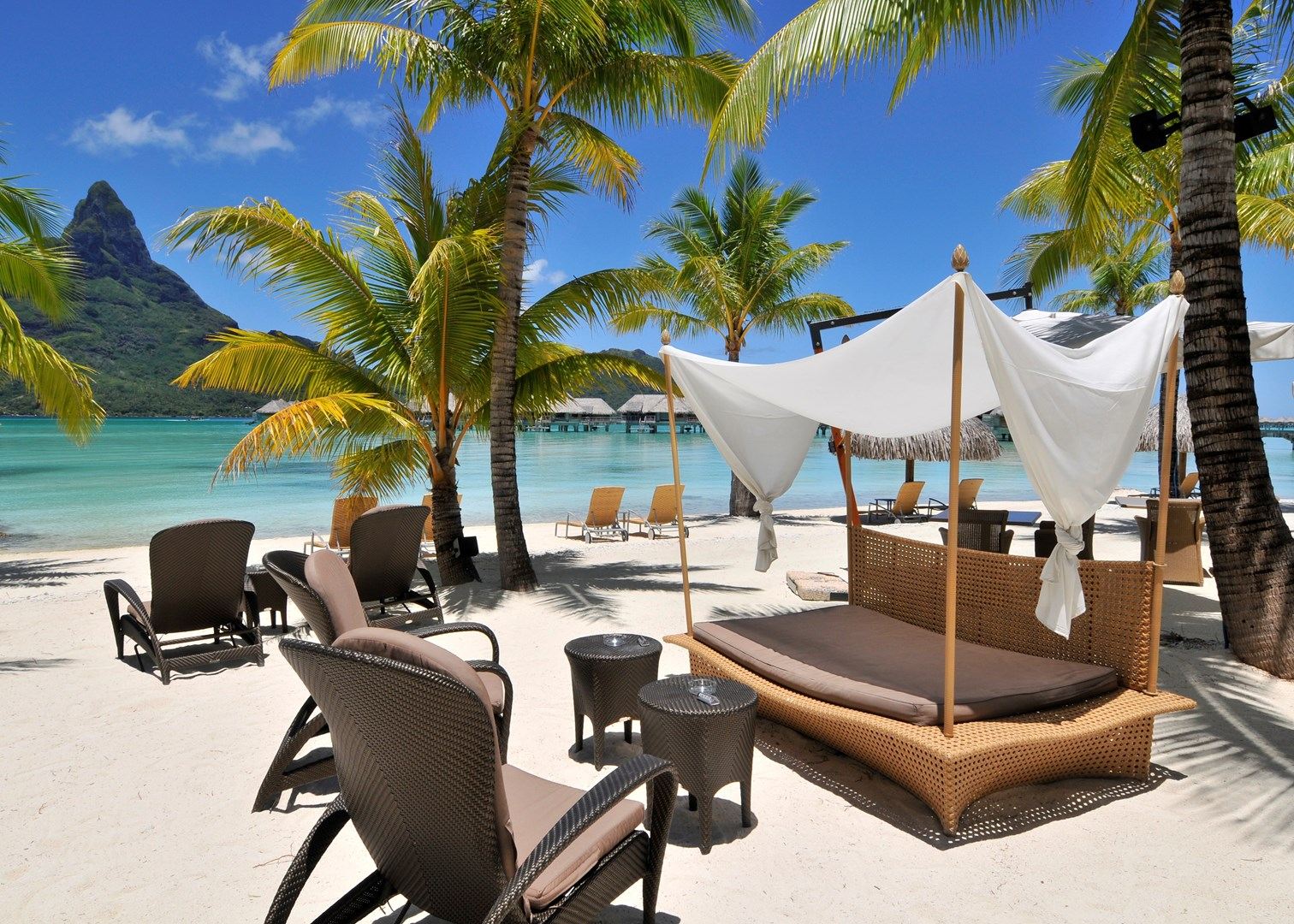 Feel your cares slip away as you soak in their award-winning Deep Ocean Spa, the only spa in the world to use the benefits of water drawn from the Pacific Ocean.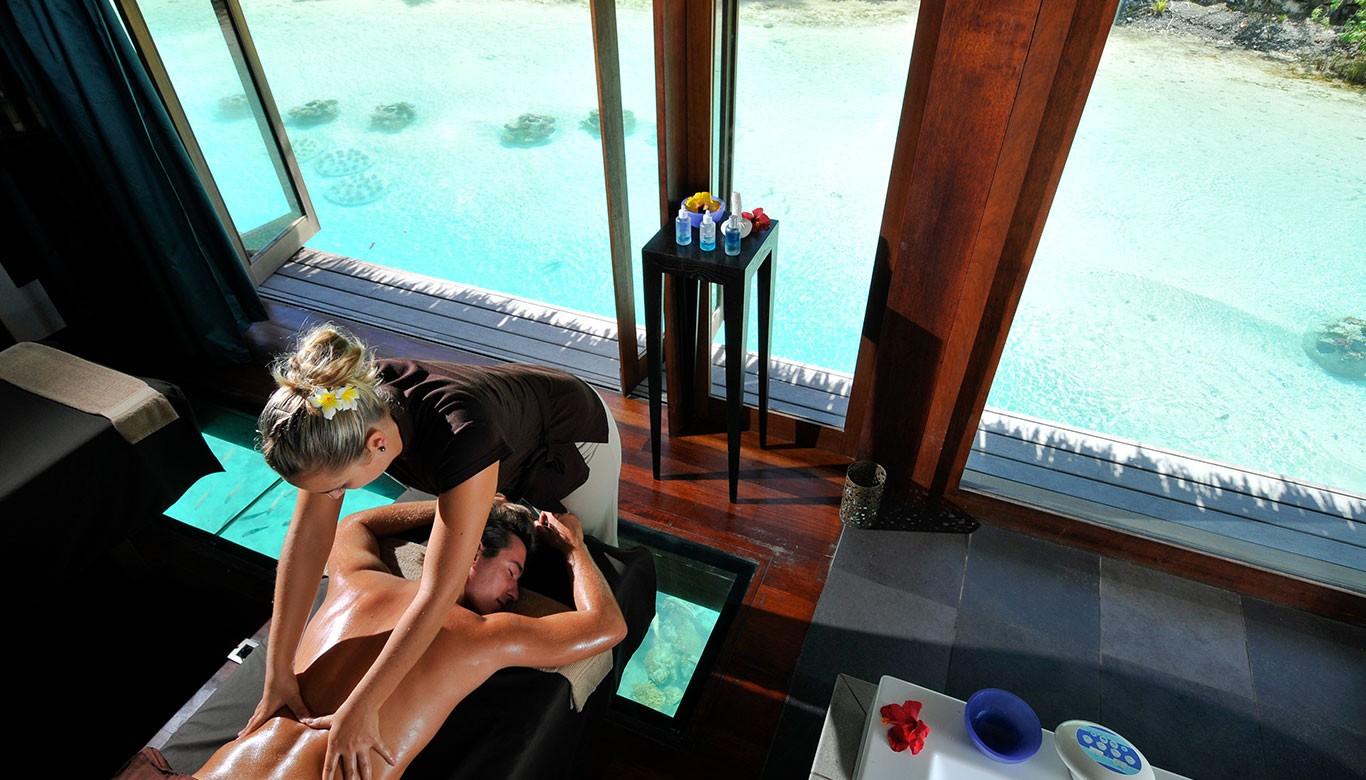 The spa offers thalassotherapy or seawater therapy and other treatments that makes use of nutrients extracted from the deep-sea waters of the South Pacific. Admire the sea life with their glass-bottomed treatment rooms as you unwind with their massage sessions specially done for couples.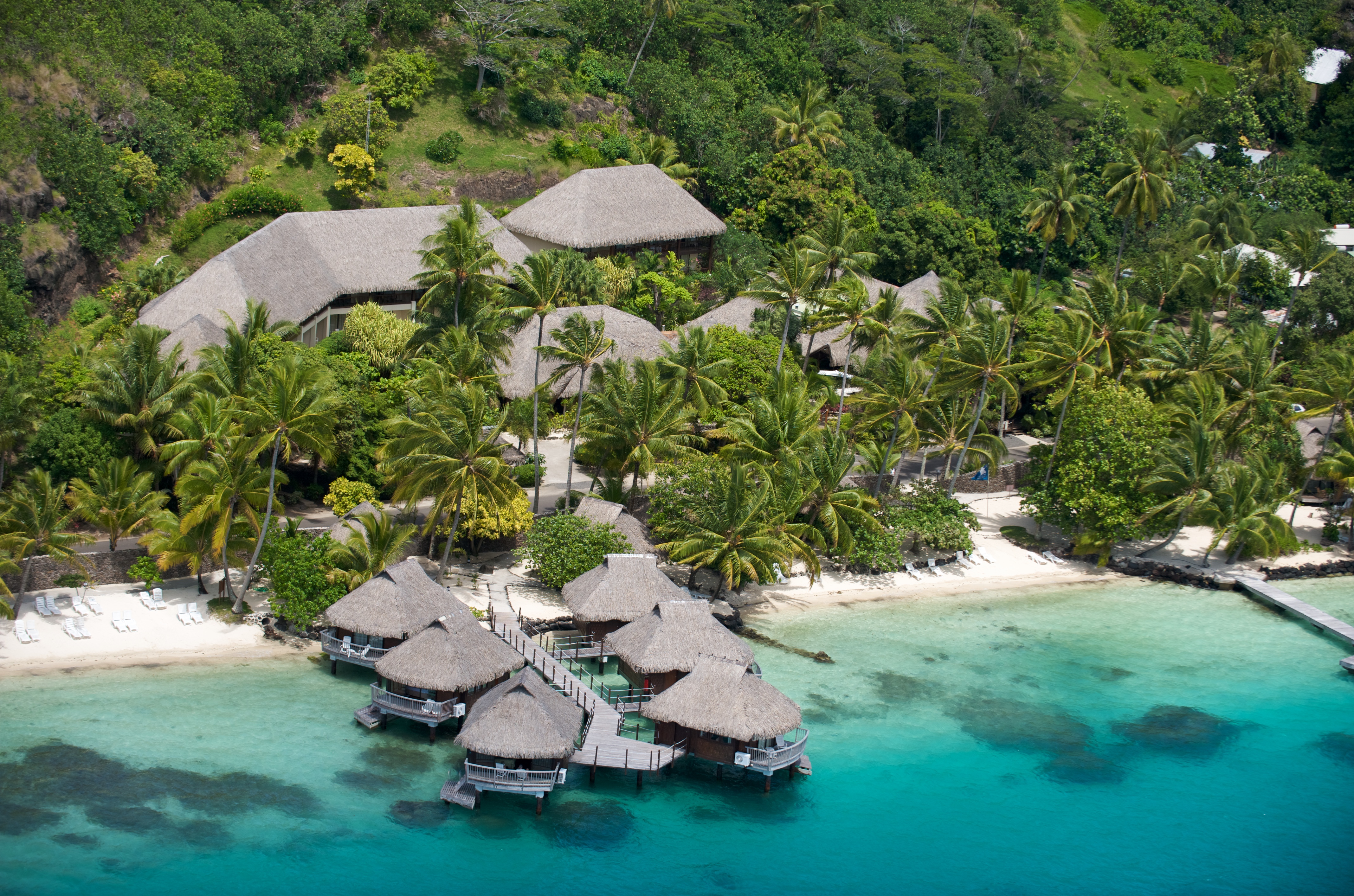 Have the tropical holiday of a lifetime at Le Maitai Polynesia and revel in the lagoon's crystal blue waters and postcard perfect beaches. Their romantic bungalows have a private balcony that lets you easily take a dip in the dazzling clear sea.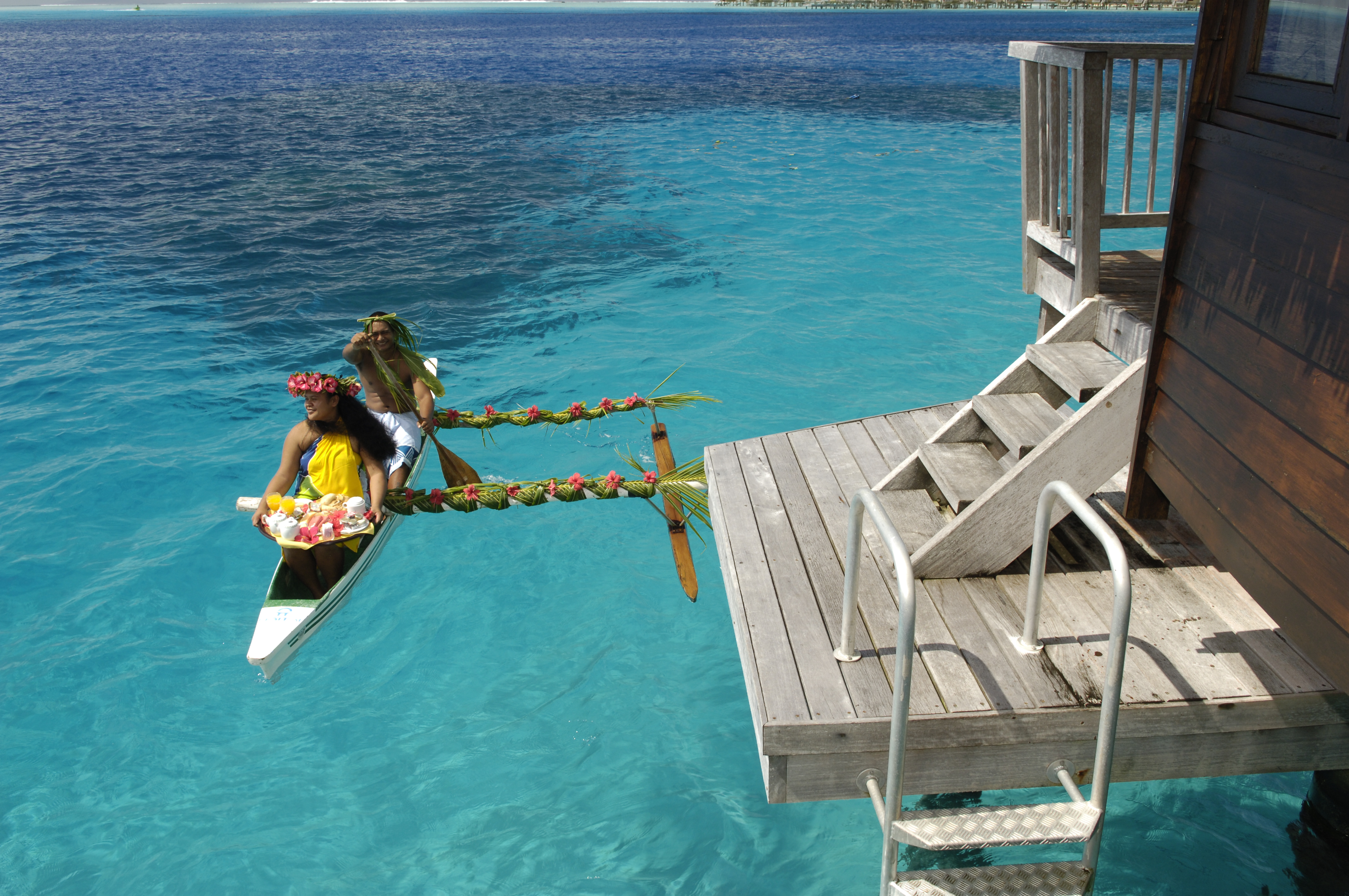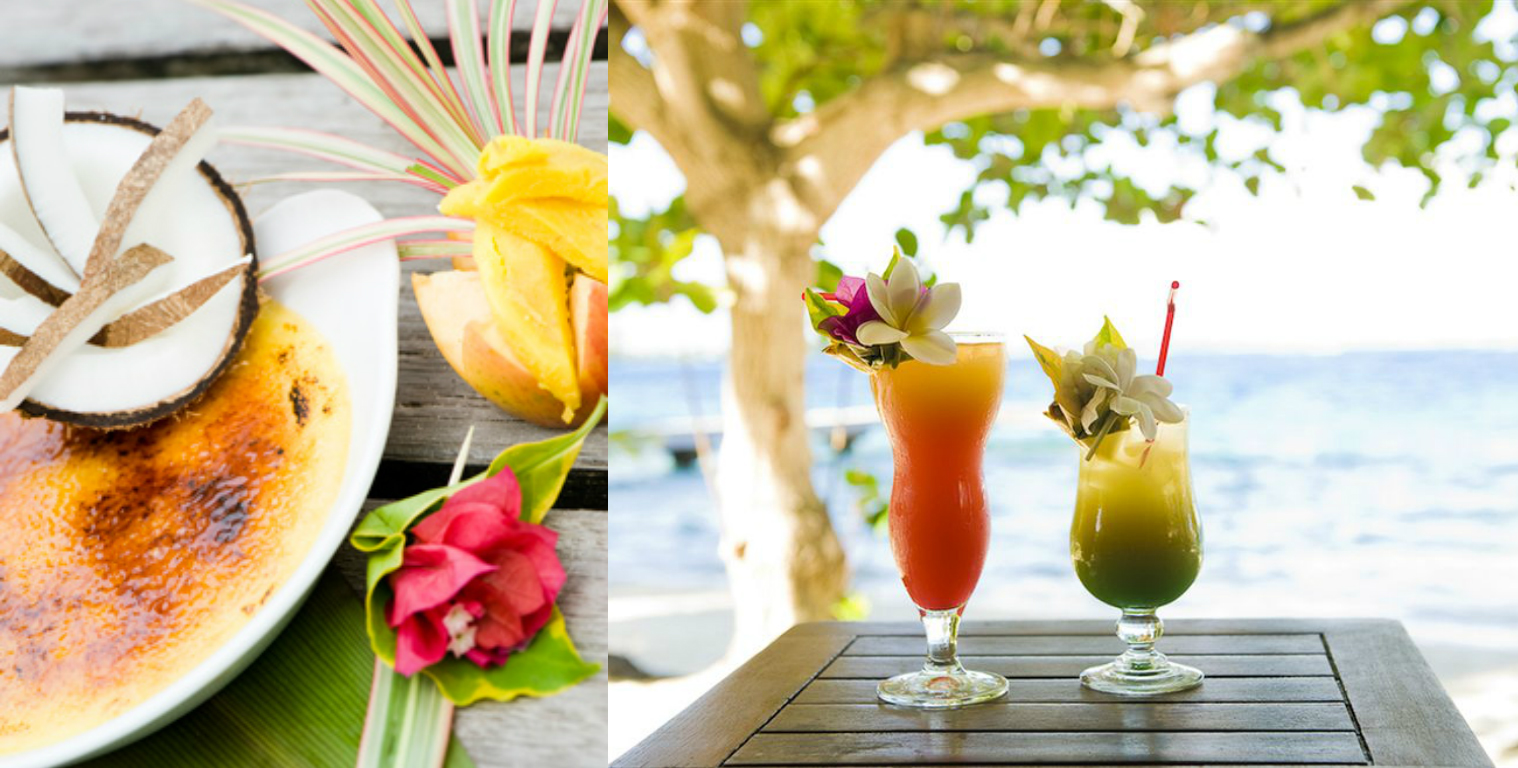 Enjoy the panoramic views of Bora Bora while indulging the most exotic and delicious Polynesian cuisine from their restaurants. Apart from being more accessible, Le Maitai is also less expensive than other Bora Bora resorts.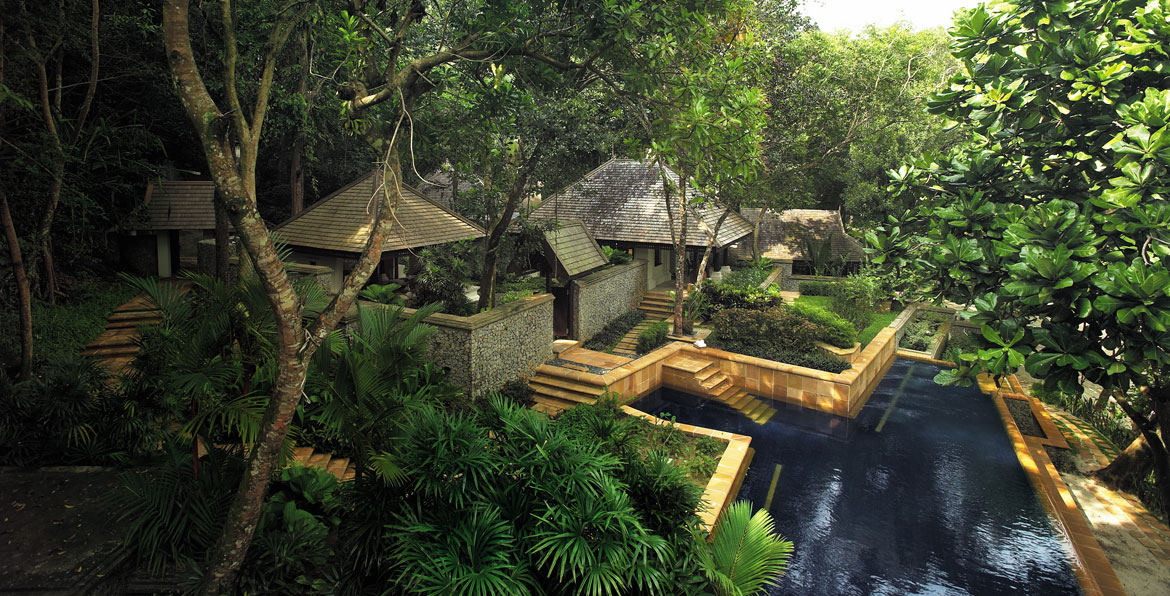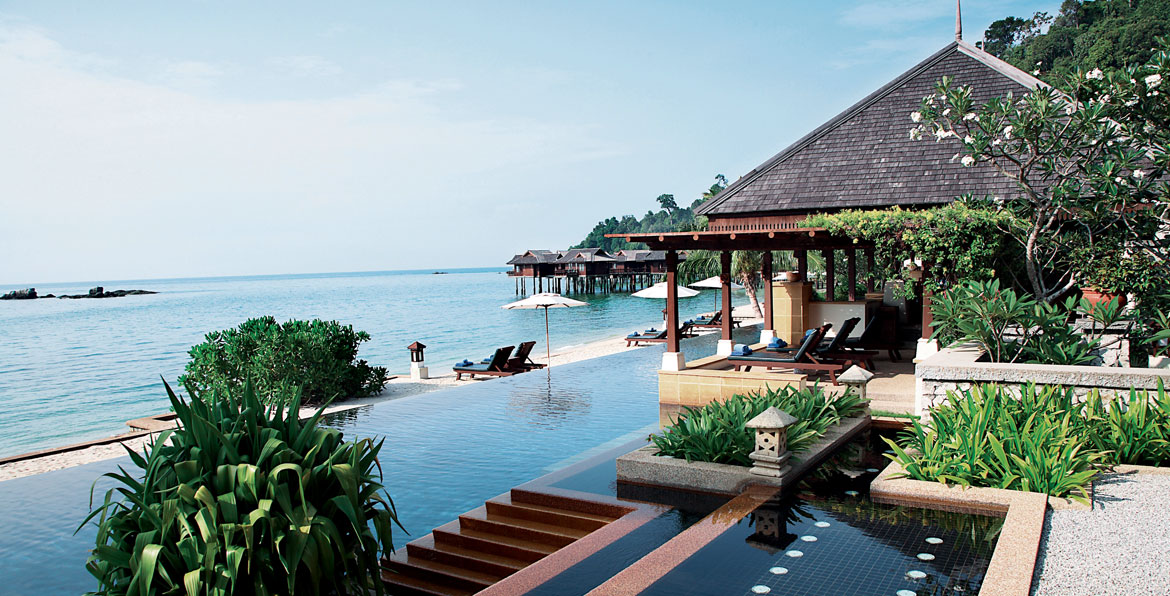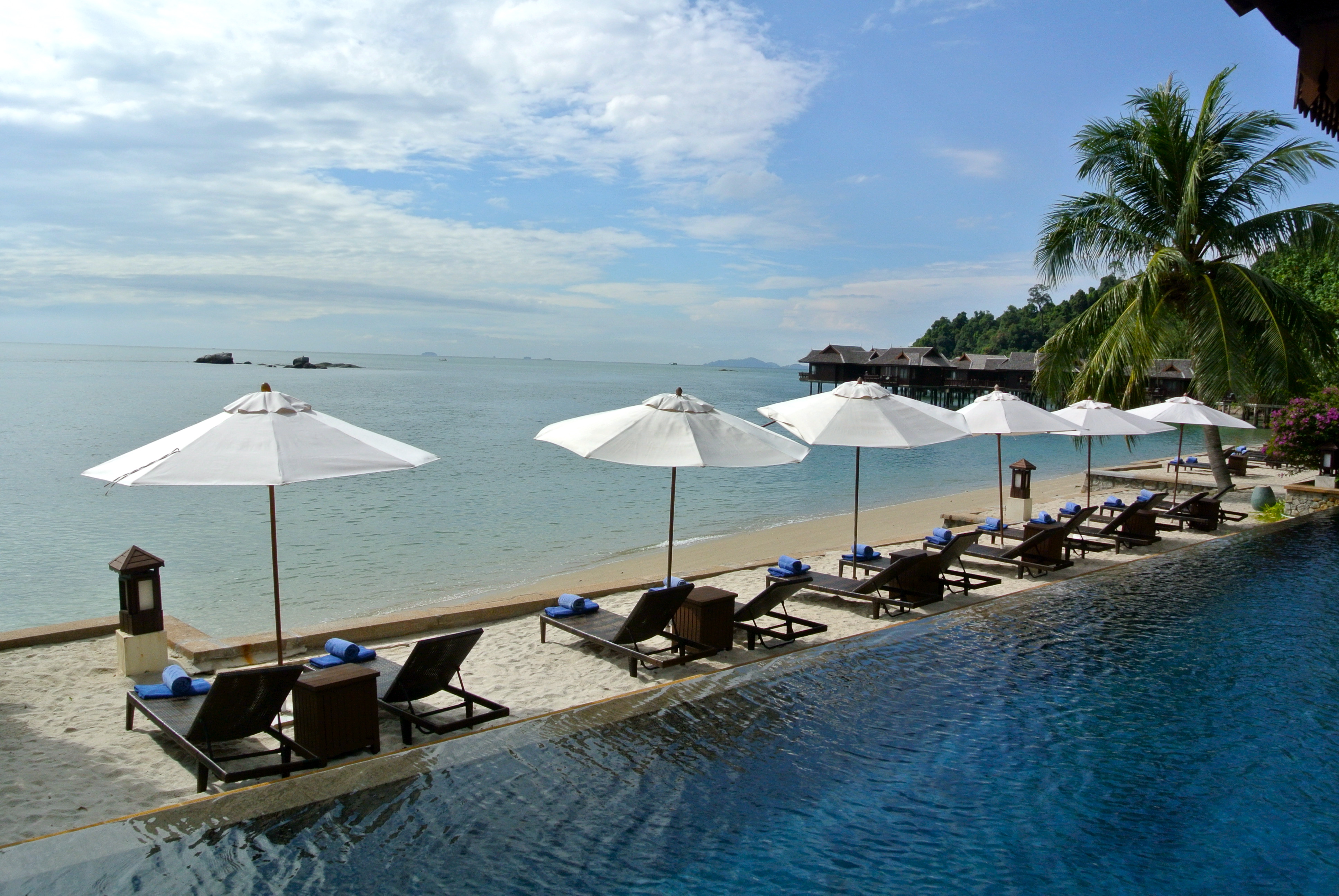 This private island located off the coast of Malaysia is perfect for a honeymoon or just a tranquil getaway. The Sea Villas feature large balconies with sun loungers and their suites boasts of a spacious entrance hall and lounge. Discover the beautiful lush landscapes of Malaysia's virgin rainforest through their guided jungle trek, or do yoga amongst the fresh ocean breeze with the resort's tai chi quan morning sessions and enjoy a vibrant breakfast at the Feast Village.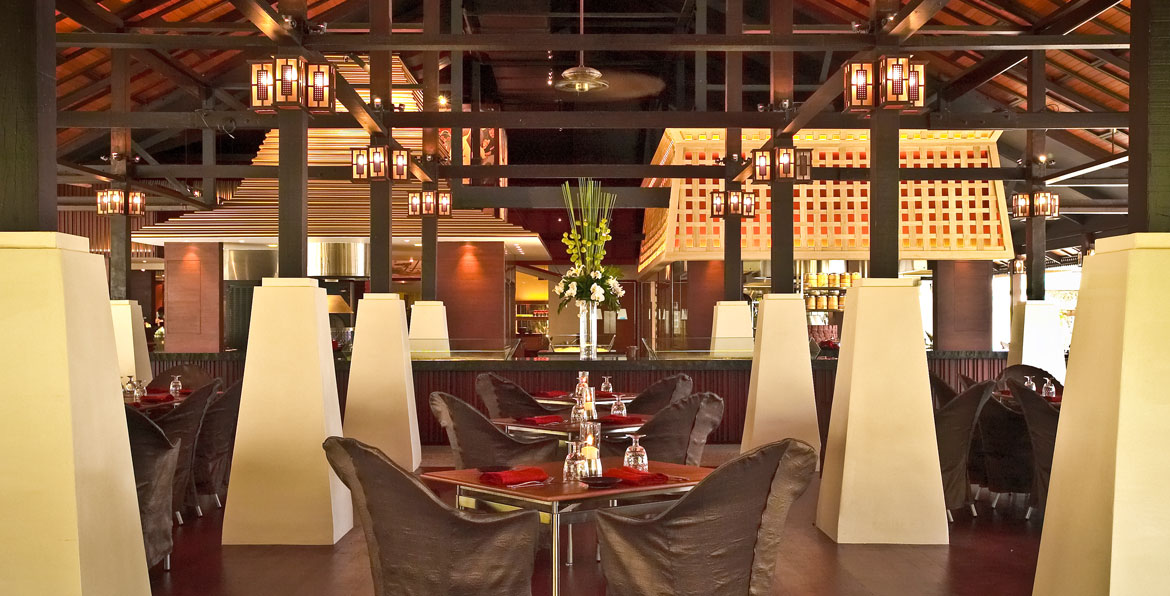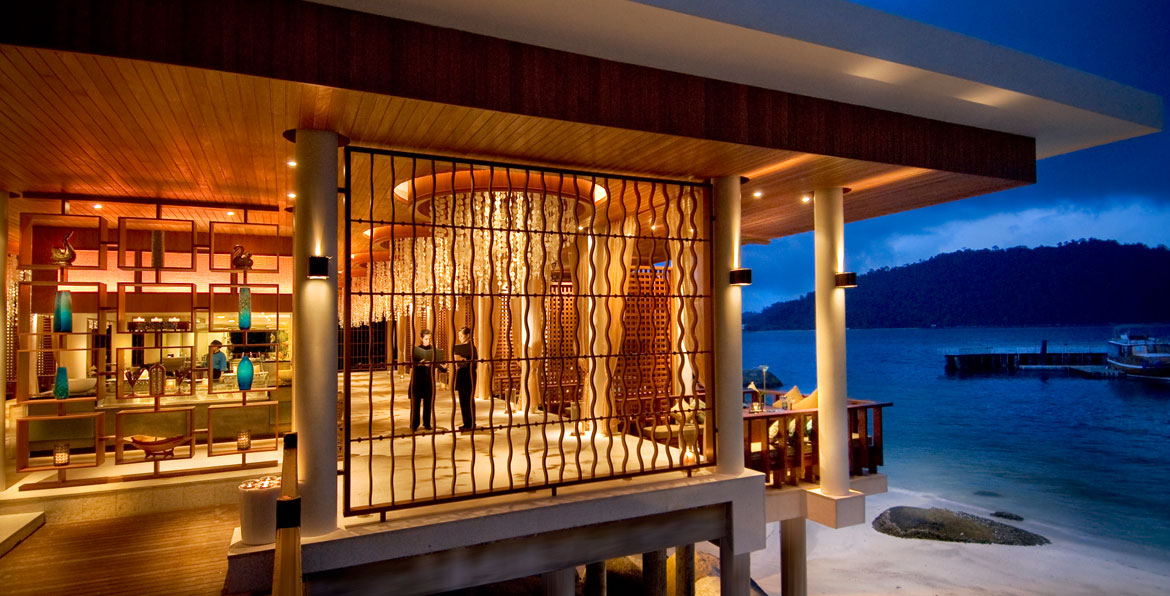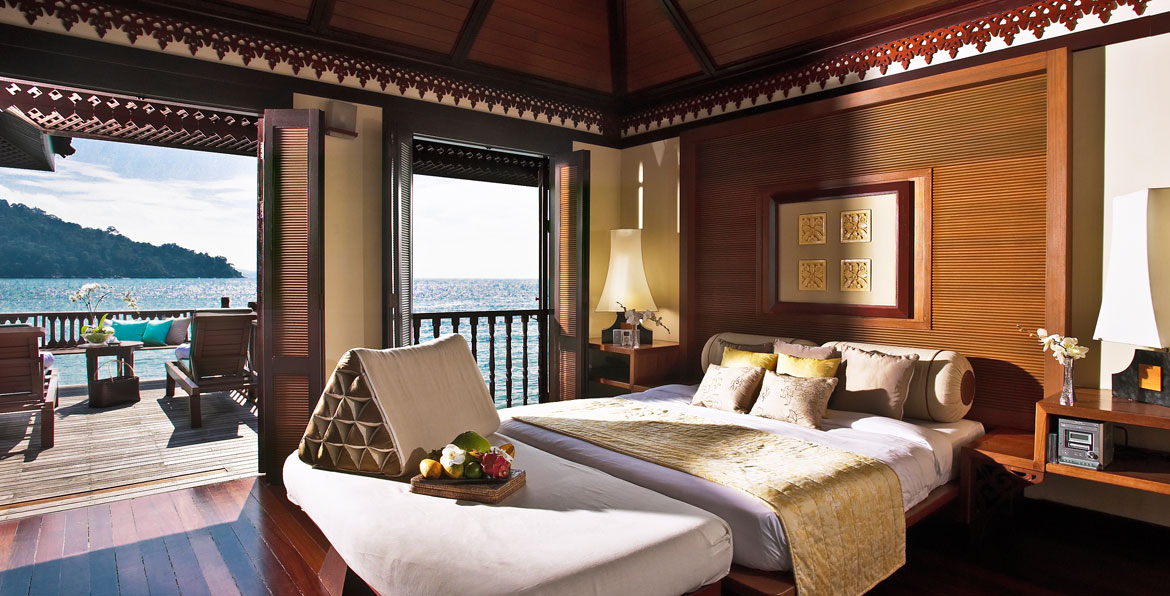 The resort also offers other activities like snorkeling, fishing excursions, kayaking, waterskiing, wakeboarding, and catamaran sailing. You and your partner can also go sight-seeing and sail across the straits of Malacca aboard a luxury yacht. Bask in the sun and stop over at Squid Bay, the resort's private beach where you can dig in wonderfully prepared gourmet picnic basket. You can also choose to go on board their teakwood Oriental junk on sunset cruise complete with free flowing soft drinks, house wine and beer as you take in the lovely view of the island from the sea, bathed in the golden hues of the setting sun.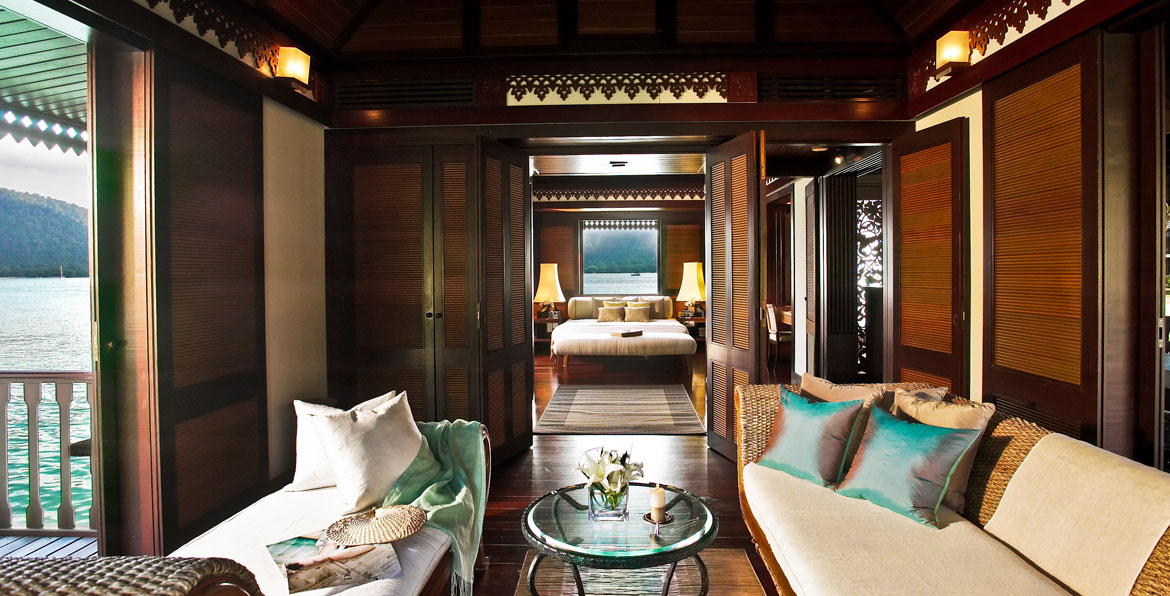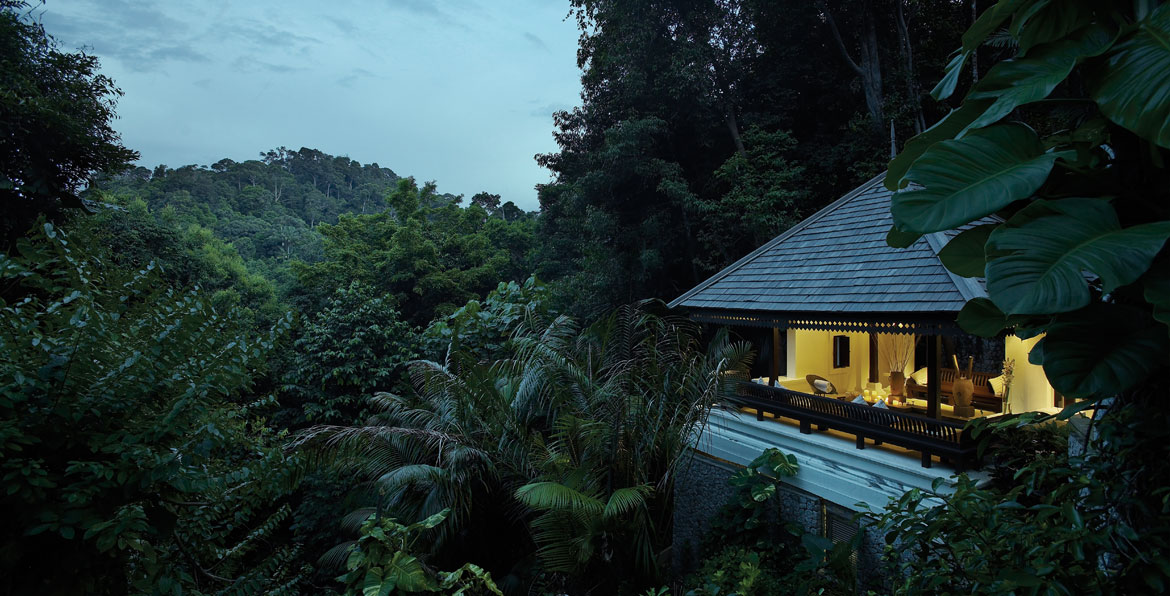 Make your dream beach wedding a reality with their wonderful wedding package. Set sail aboard a yacht, and then hold an intimate wedding ceremony at the majestic Emerald Bay. "Exchange vows on the petal-strewn deck as the sun sets on the horizon, then celebrate your union with a champagne toast as the resident band serenades. Cruise back to the island, where a sumptuous seafood banquet on the beach awaits you and your loved ones."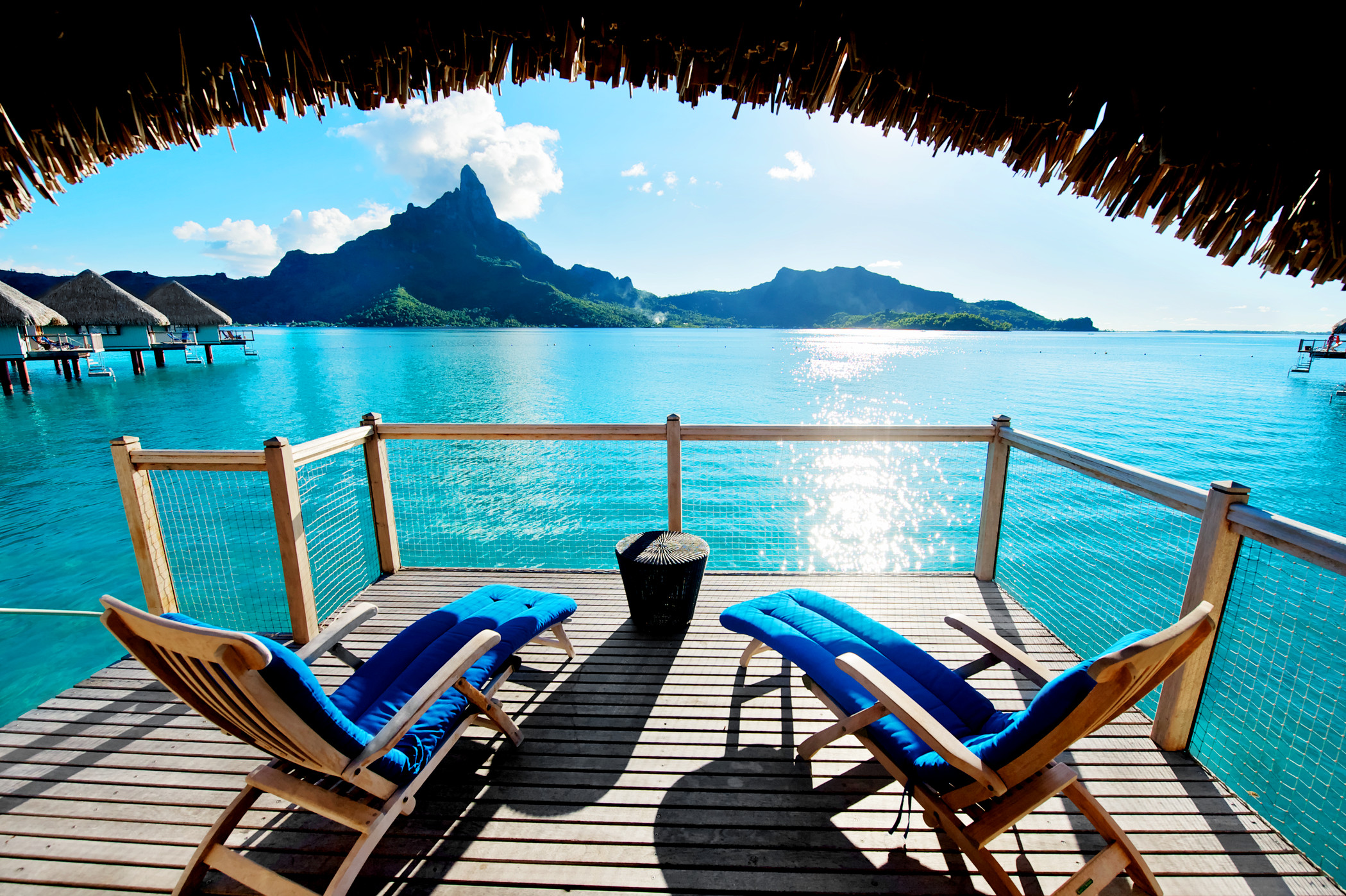 Another beautiful luxury resort located in Bora Bora. Their overwater bungalows are newly renovated and features elegant and contemporary designs. It boasts the largest glass floor in the island of Bora Bora. Get an awe-inspiring view of the sunset over Mount Otemanu perfect for romantic cocktails. Enjoy their complimentary activities like snorkelling, kayaking, pirogues (flat-bottomed boats), table tennis, badminton and volleyball. You can also swim among various sea life in their infinity swimming pool complemented by a large inner lagoon, or visit the Bora Bora Turtle Center to meet and learn about marine turtles.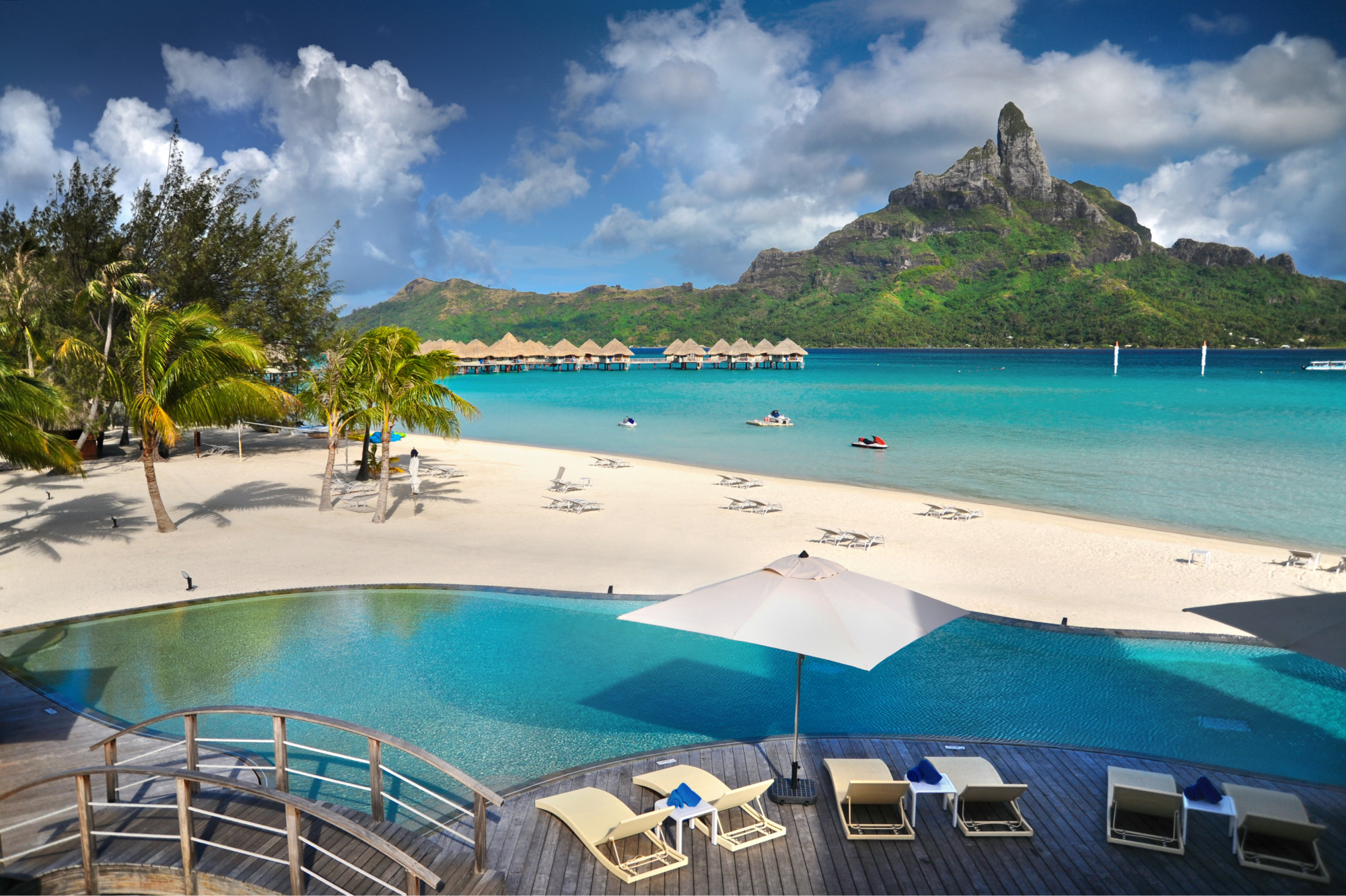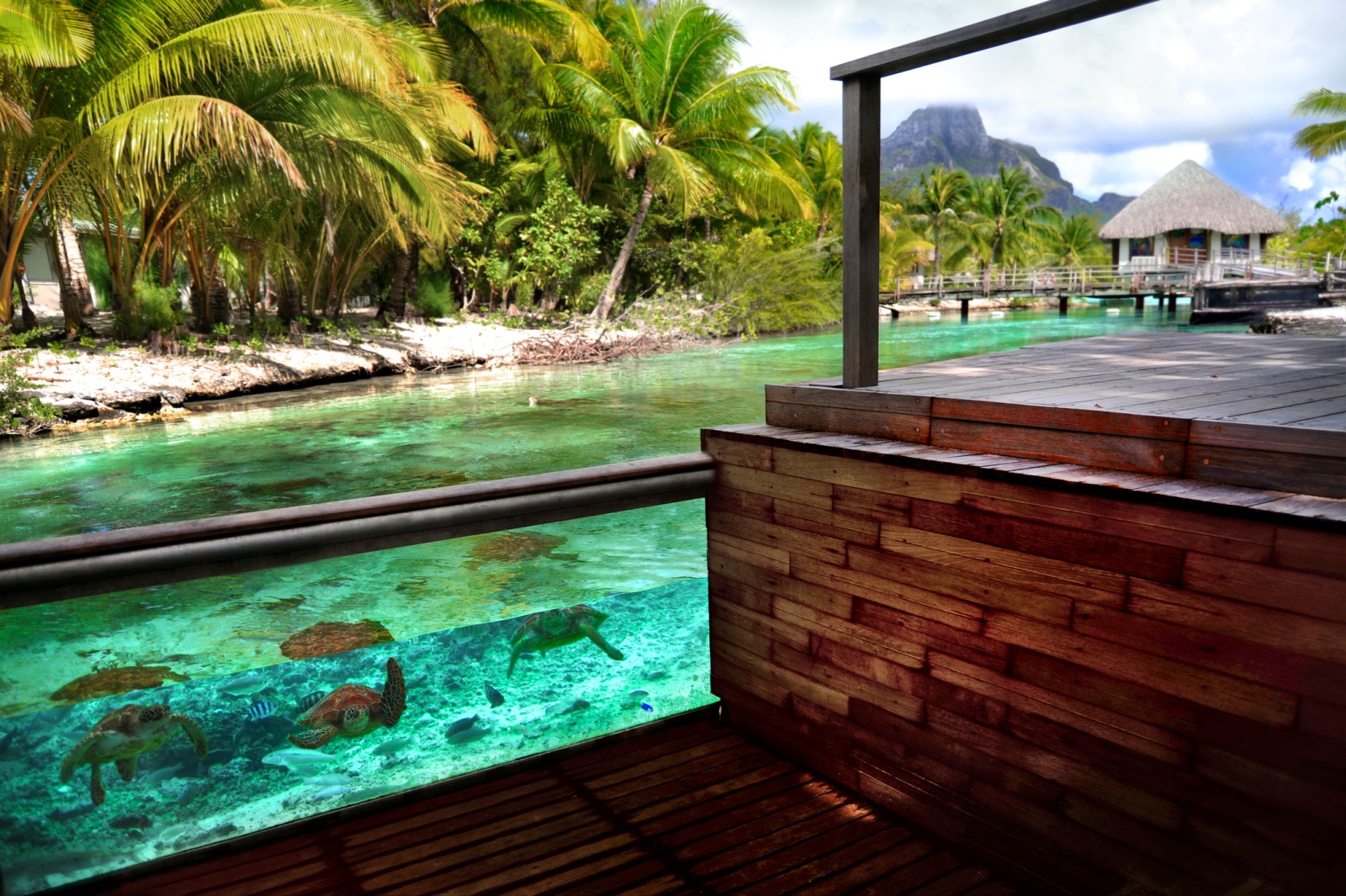 The best part? They also have a complimentary 'pirogue' sailing with a guided lagoon tour. This traditional Polynesian boat lets you bathe in the sun, feel the warm wind on your skin and take in the views of the emerald sea.
12. Ayada Maldives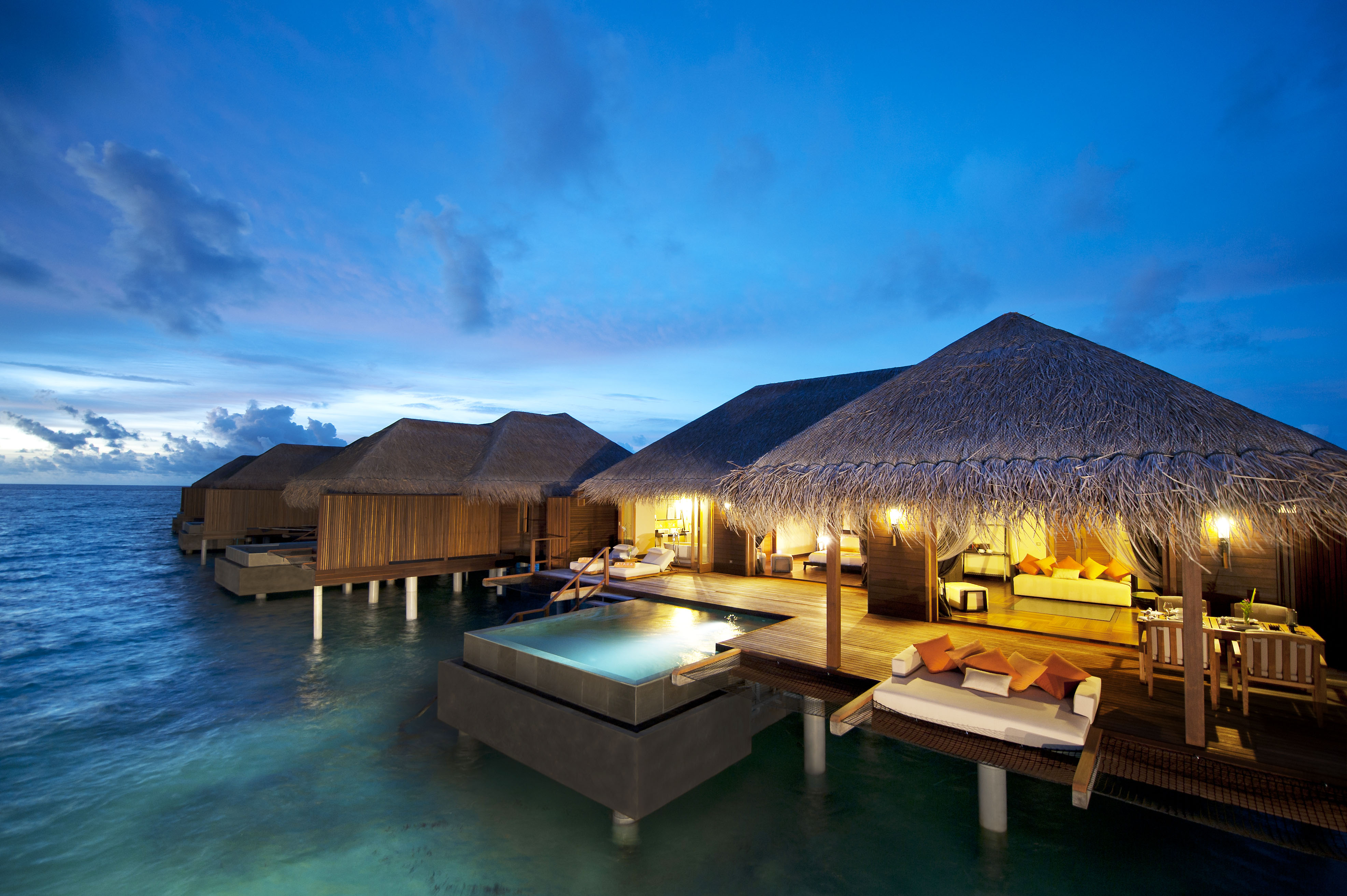 Ayada Maldives holds a lot of awards including the Indian Ocean's Leading Luxury Resort and the Indian Ocean's Villa Resort & Spa at the 2014 Travel Awards. Their traditional overwater bungalows and villas are designed with genuine and authentic Maldivian elements. Take a dip and relax in your own private pool with views over the lagoon and beyond. Lounge in your own ocean hammocks whilst you get the most luxurious treatment from your very own butler.

They also offer a private dining experience exclusively for you and your loved one complete with a private chef. You can choose to dine on the white sandy beach, on the deck of your own villa, or on a secluded pagoda. The menu consists of luscious cuisine such as chargrilled root vegetable salad, local rock lobster, tiger prawns, Australian lamb chops, and more. A perfect way to end an adventure-filled day, let your own chef and waiter cater you the perfect evening under the Maldivian stars.
13. Bora Bora Pearl Resort and Spa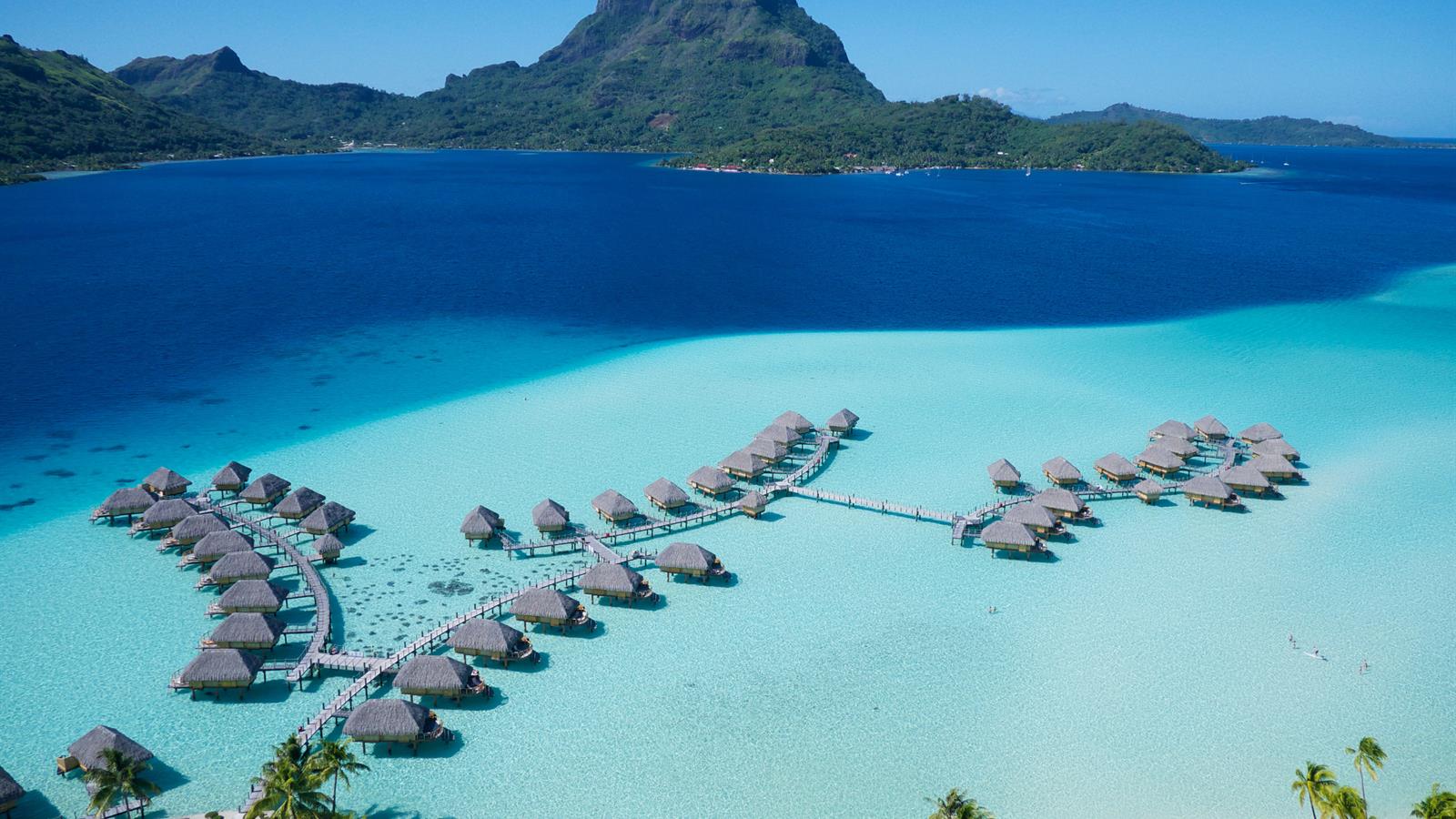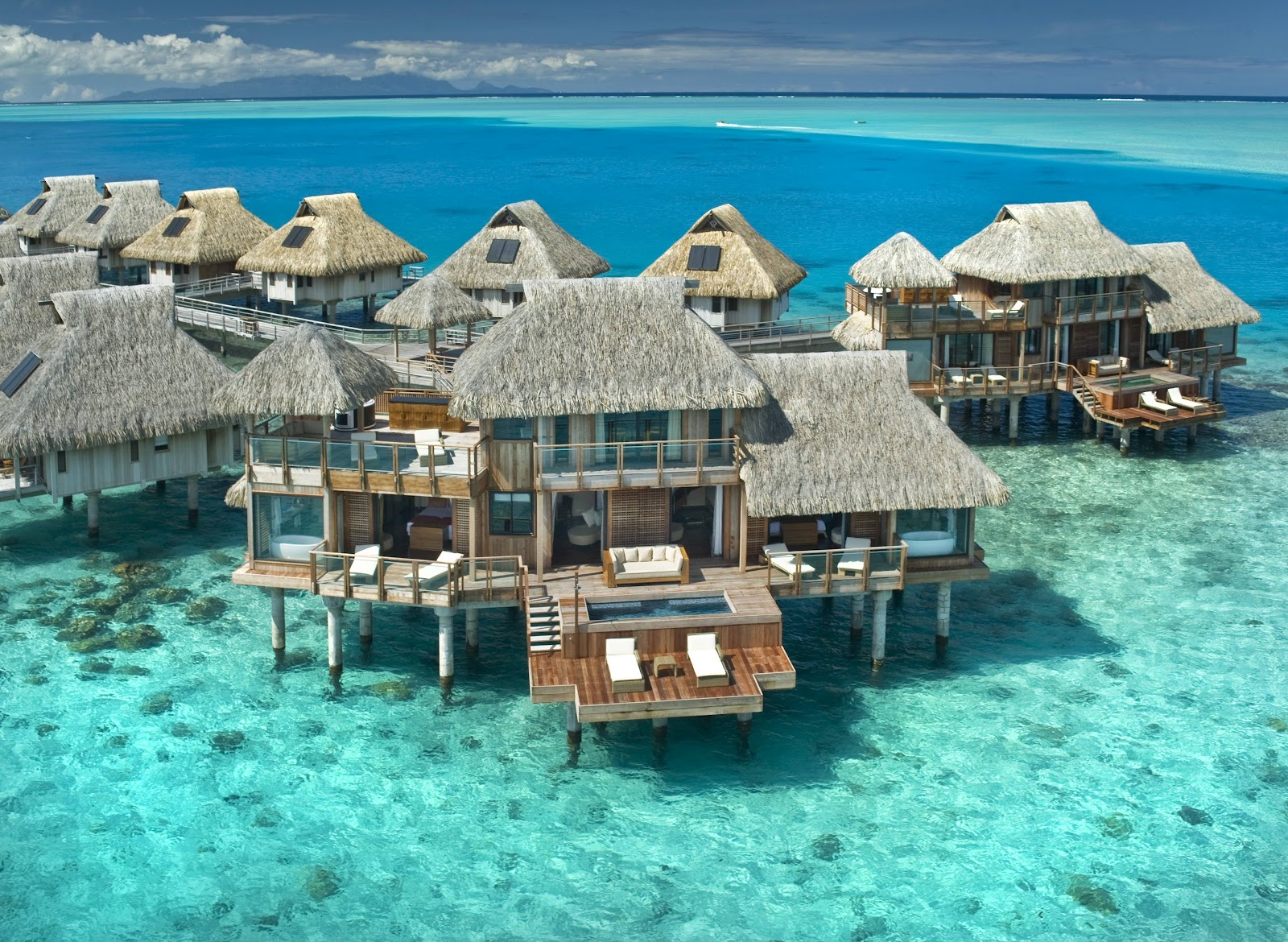 The Bora Bora Pearl Resort and Spa is another paradise on earth. It is located in the majestic Motu Tevairaoa amidst the breathtaking reef of the Pearl of the Pacific. Live the Tahitian dream holiday in their luxury bungalows with outdoor terraces and glass tables where you can not only see lagoon fish, but also feed them. Plunge into their large freshwater swimming pool or relax in the jacuzzi located at the centre of the pool.


A true tropical hideaway, this resort is located in Indonesia's Raja Ampat archipelago and is hidden among pristine remote islands. All their water cottages are Balinese-inspired and features mini-bars, hammocks, and a veranda that leads down the North Lagoon. This place is perfect if you both love diving as they offer three guided dives every day. Go snorkeling in their vast world-class dive sites where you can explore the richest, most colorful reefs and multitude of tropical marine life such as fish, turtles, octopus, sharks, and more. Raja Ampat is known as the "Amazon of the Oceans" because of its rich marine life. It is home to three-quarters of all known coral species as well as recently discovered underwater creatures such as the walking shark and pygmy seahorse.
15. Sofitel Bora Bora Marara Beach Resort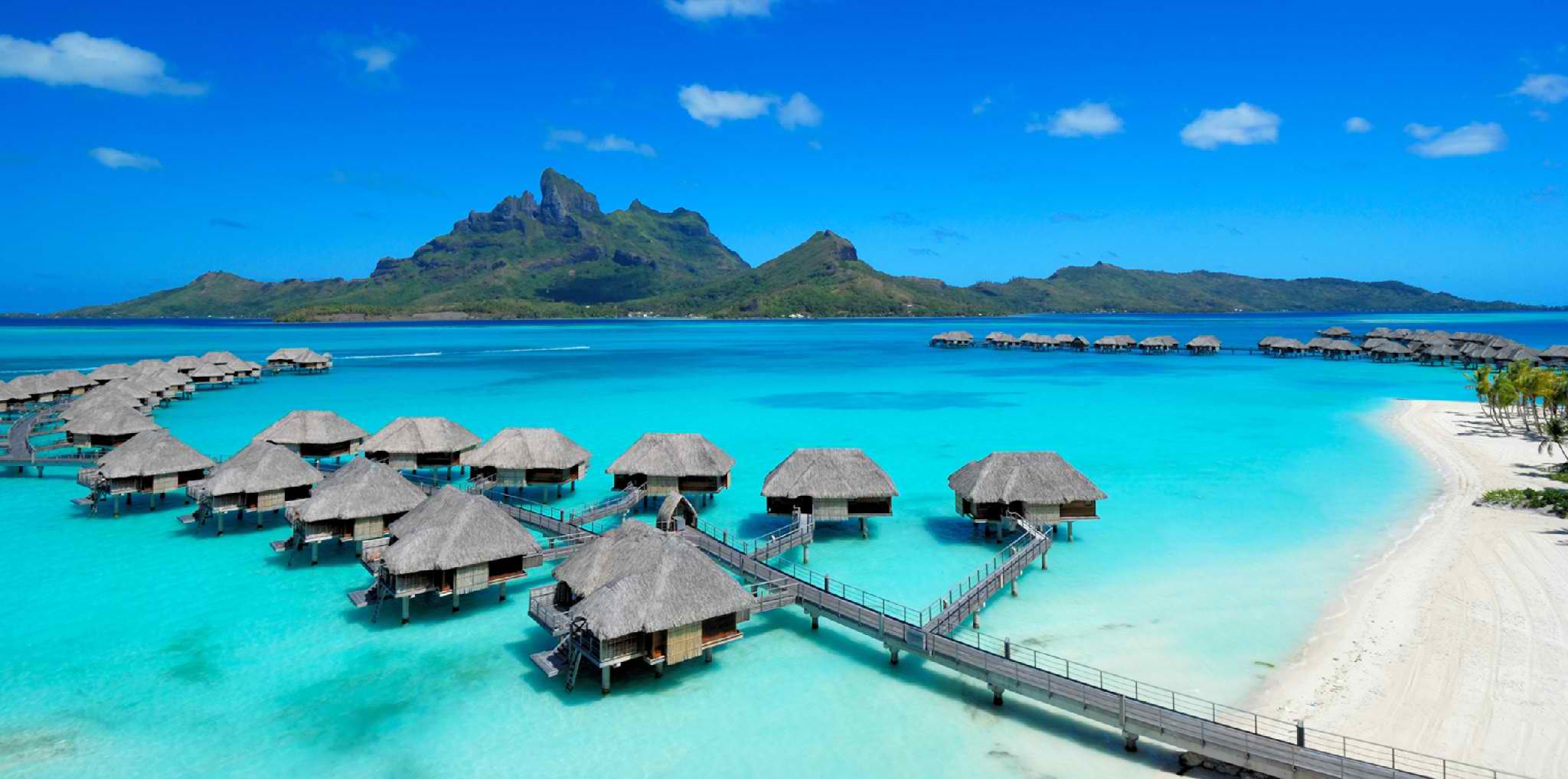 Nestled in the stunning Matira Bay in Bora Bora, Sofitel Bora Bora Marara Beach Resort sits on a powder-white beach around sparkling turquoise waters. Their villas overlook the greenest tropical landscape and features a glass floor where you can view the picturesque undersea. Witness the endless beauty of the South Pacific and go cycling, diving, snorkeling, or paddling in a Polynesian canoe. Pamper yourself in their spa and get a calming massage or a beauty treatment based on Tahitian plants. Their lovely honeymoon package lets you enjoy a bottle of champagne, romantic gifts, and wonderful breakfast in bed.
16. Four Seasons Resort Bora Bora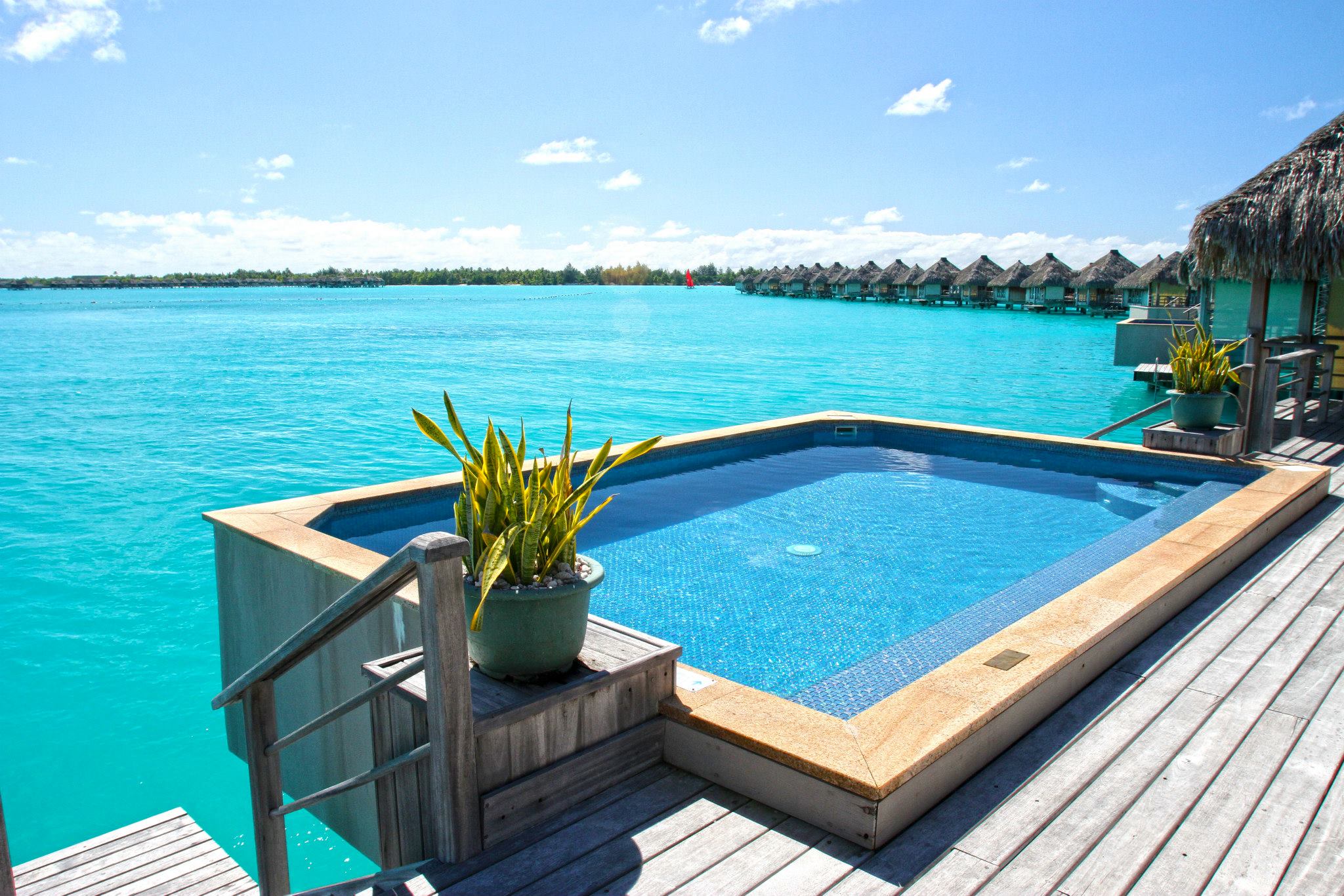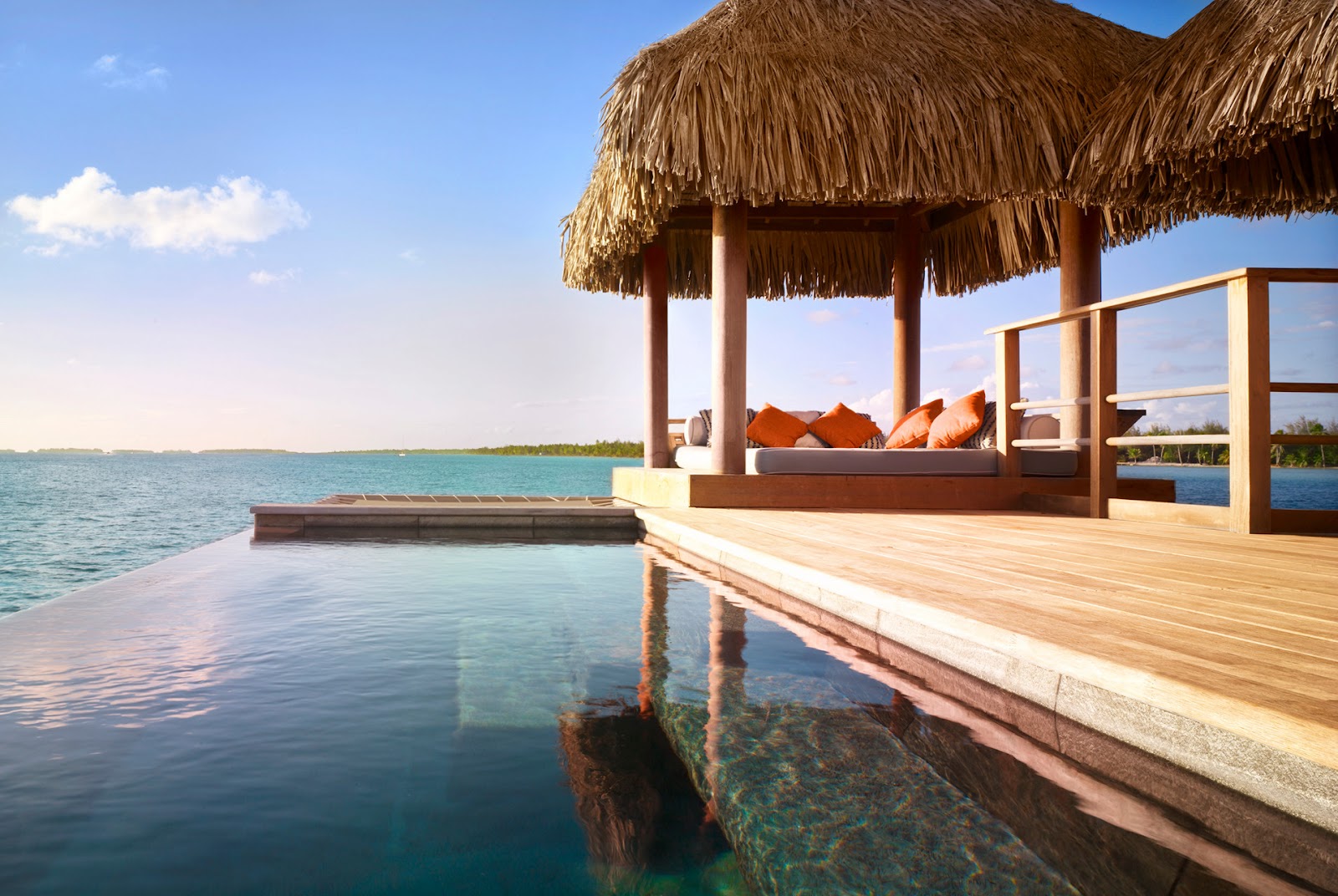 The lavish Four Seasons Resort boasts of extensive overwater bungalow suites with the most breathtaking plunge pools. It is surrounded by scenic islets on an outer coral reef. Immerse in the beauty of the world's best island through the resort's Catamaran where you can choose from island tours, romantic dining excursions or relaxing cruises. Apart from your very own private pool, the resort also has their own infinity pool, lagoon sanctuary and spa with a vitality pool.

17. Vahine Island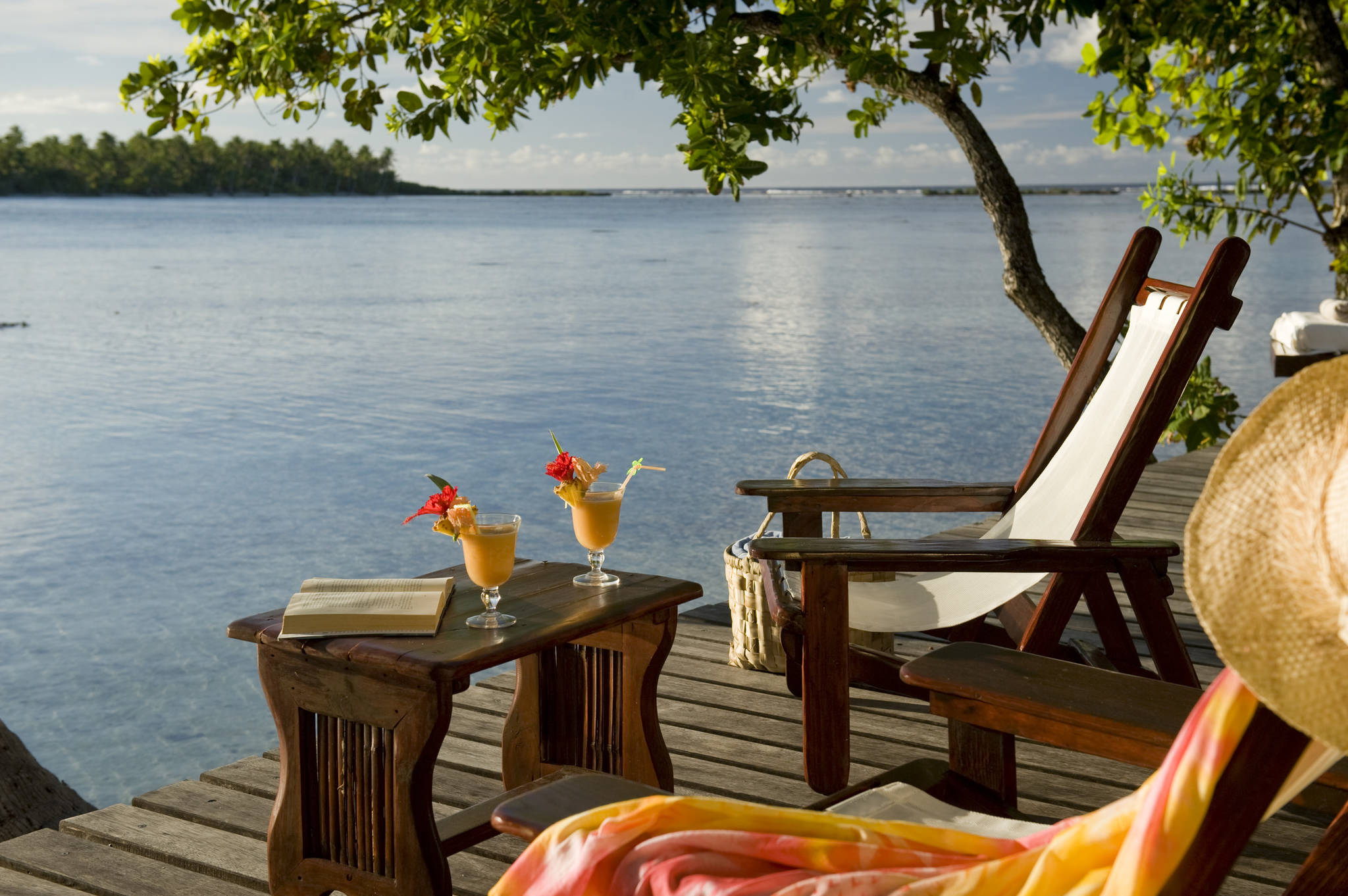 This secluded island in Tahiti only has three bungalows built on stilts. Vahine Island is an extraordinary private island resort located in the middle of the lagoon of Tahaa, and is surrounded by coconut groves and sparkling white sand beaches. The villas feature a unique "aquarium table" equipped with a spotlight so you can watch and feed exotic fish even at night. Enjoy one-of-a-kind activities the resort has to offer like Polynesian pirogues with oars to discover the lagoon, naturalist tour of their 9-acre isle, Coconut show, Pareo (Tahitian word for a wraparound skirt) demonstration, learning to weave coconut leaves, and more.

Explore their neighboring islets with their "Cast Away" picnic perfect for couple adventurers where you get to rent a little motor boat to see "motus" (small barrier islands), go snorkeling and have an unforgettable picnic under vast Tahitian skies.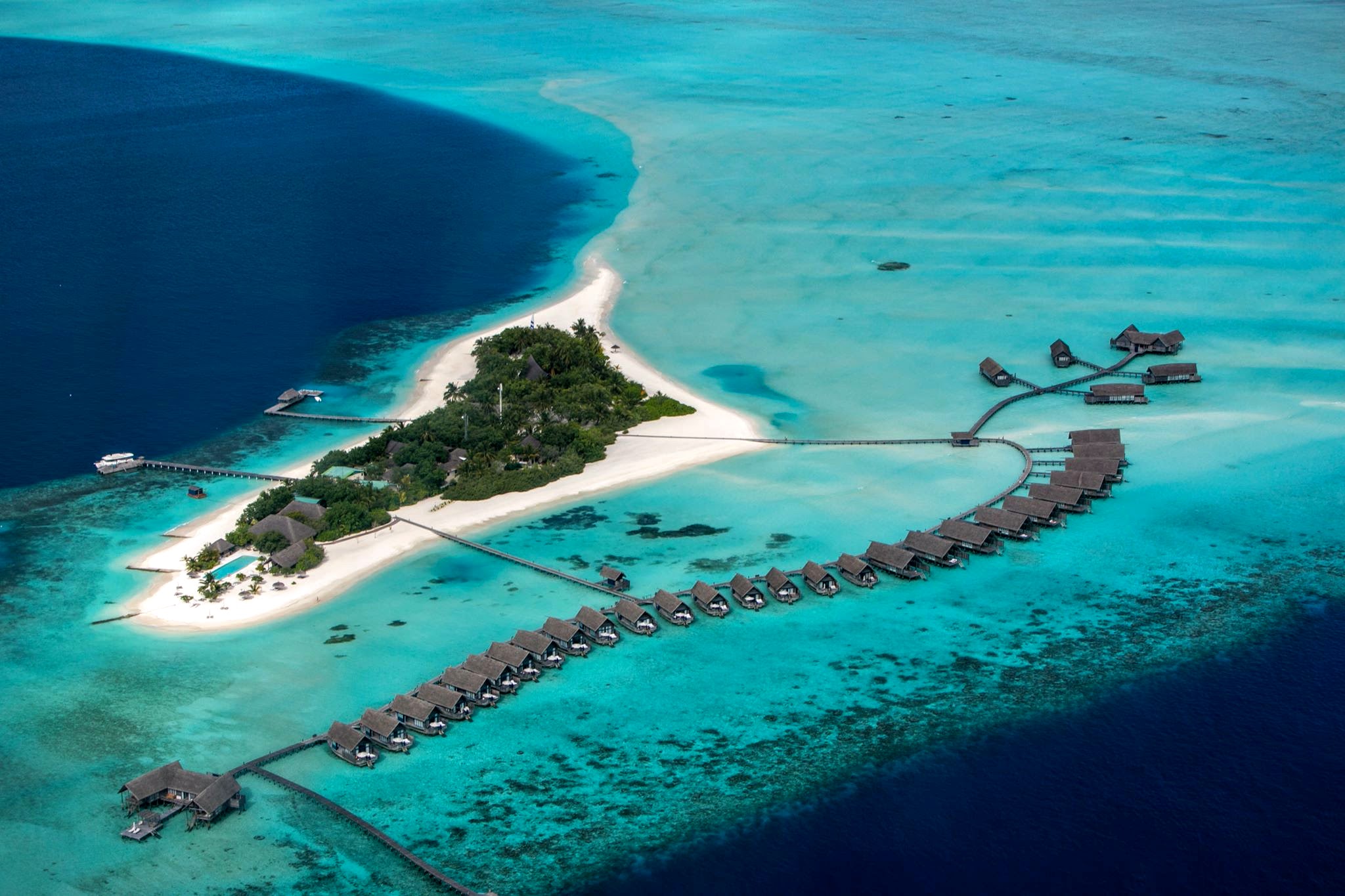 What makes COMO Cocoa Island standout amongst the numerous overwater resort in the Maldives is its distinctive design like no other. It is inspired by dhoni boats used by local fishermen. Enjoy the services of their butlers that will organize customized sunset cruises to nearby islands, romantic private dinners, snorkeling and diving tours, as wells as yoga sessions. They also offer the best dining experience in Maldives with menus ranging from Asian, Mediterranean and South Indian cuisine. This intimate Maldives island resort has everything to make your stay in paradise an unforgettable one.
19. Sofitel Moorea la Ora Beach Resort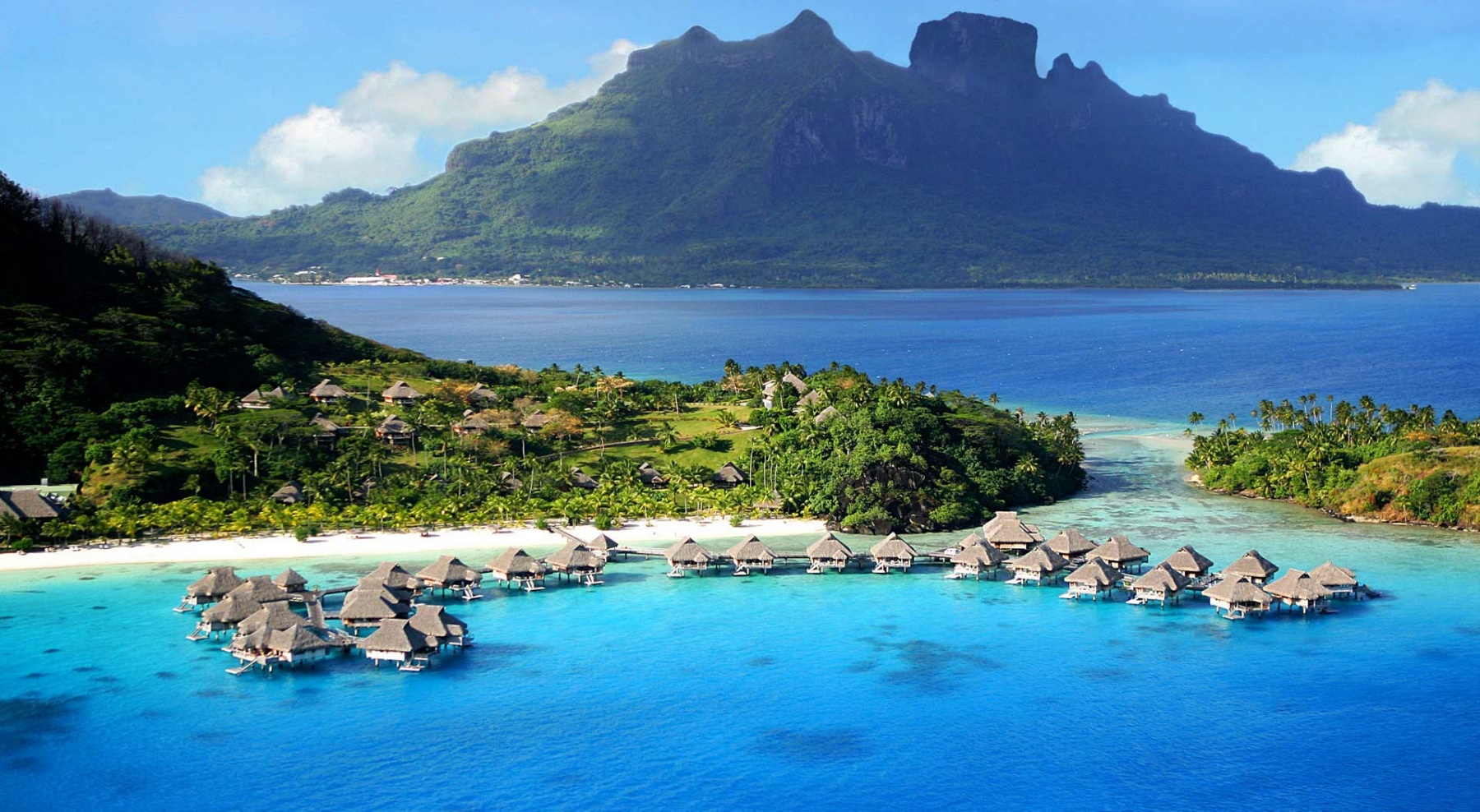 Sofitel la Ora is located in the magical Island of Moorea in French Polynesia. Their overwater bungalows feature high ceilings and designs that are Polynesian-inspired yet modern. Savor international cuisine in their buffets whilst enjoying the evening Polynesian shows. Their spa offers hot stone massages and a calming Jacuzzi. Embark on adventures around the island and choose from their exclusive Moorea tour, snorkeling, kayaking, diving expeditions, and ATV excursions.

It is the perfect destination for honeymooners and couples seeking an exotic getaway. Their honeymoon package includes a sunset dinner with champagne at Moorea Beach Café, lagoon cruise, Motu picnic, and ATV adventure around the beautiful island of Moorea.
20. Kia Ora Resort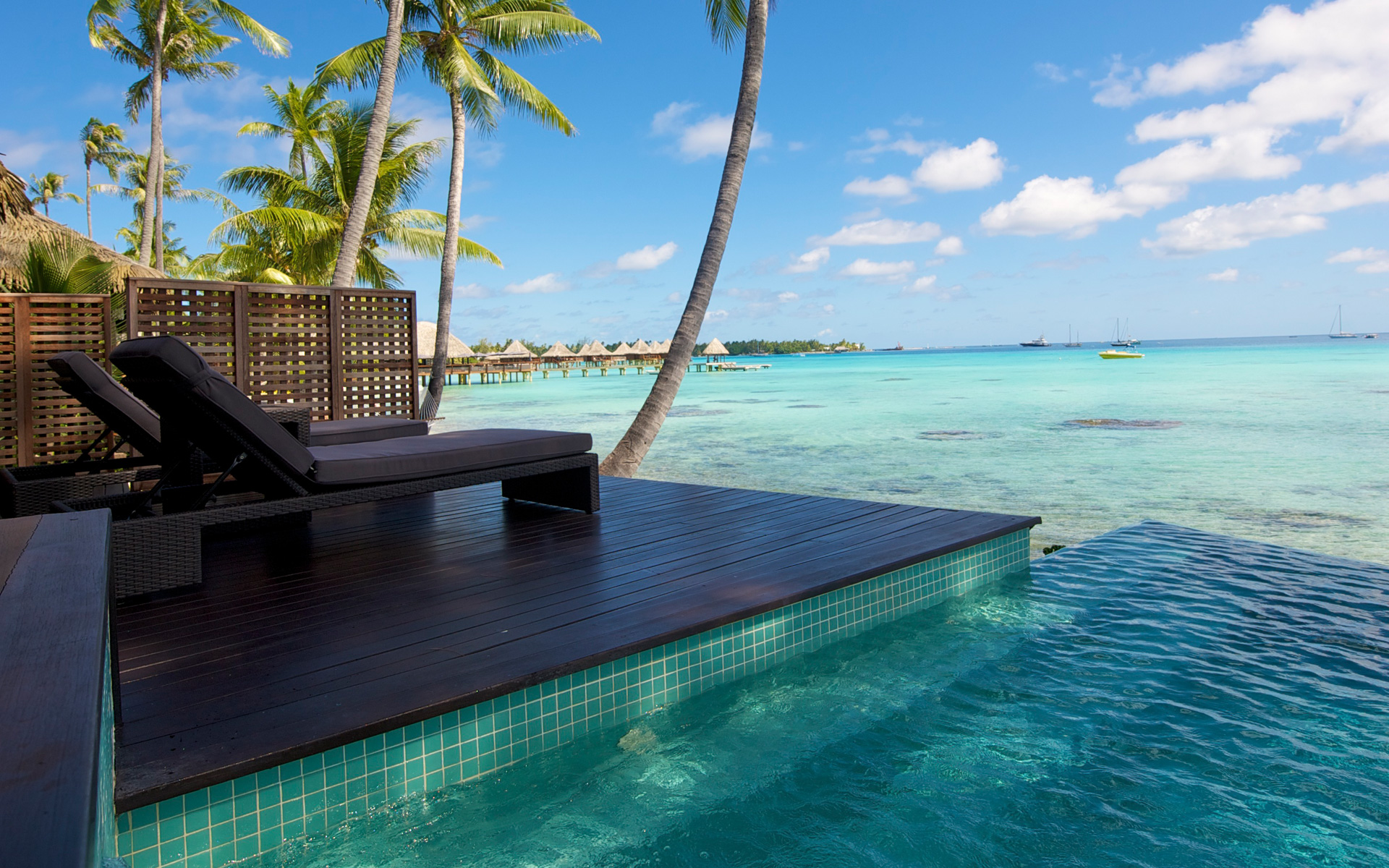 The Kia Ora resort is set in the exquisite island of Rangiroa, North East of Tahiti Island. The overwater bungalows sit on the clearest waters of the lagoon with a color dubbed as 'Rangiroa Blue'. It features giant windows, expansive glass floors, and spacious decks and rooms. There are many spectacles to see around the island. You and your partner can watch wild dolphins, hammerhead sharks, manta rays, and more at the Tipta Path waterway, just a 10-minute bike ride from the resort.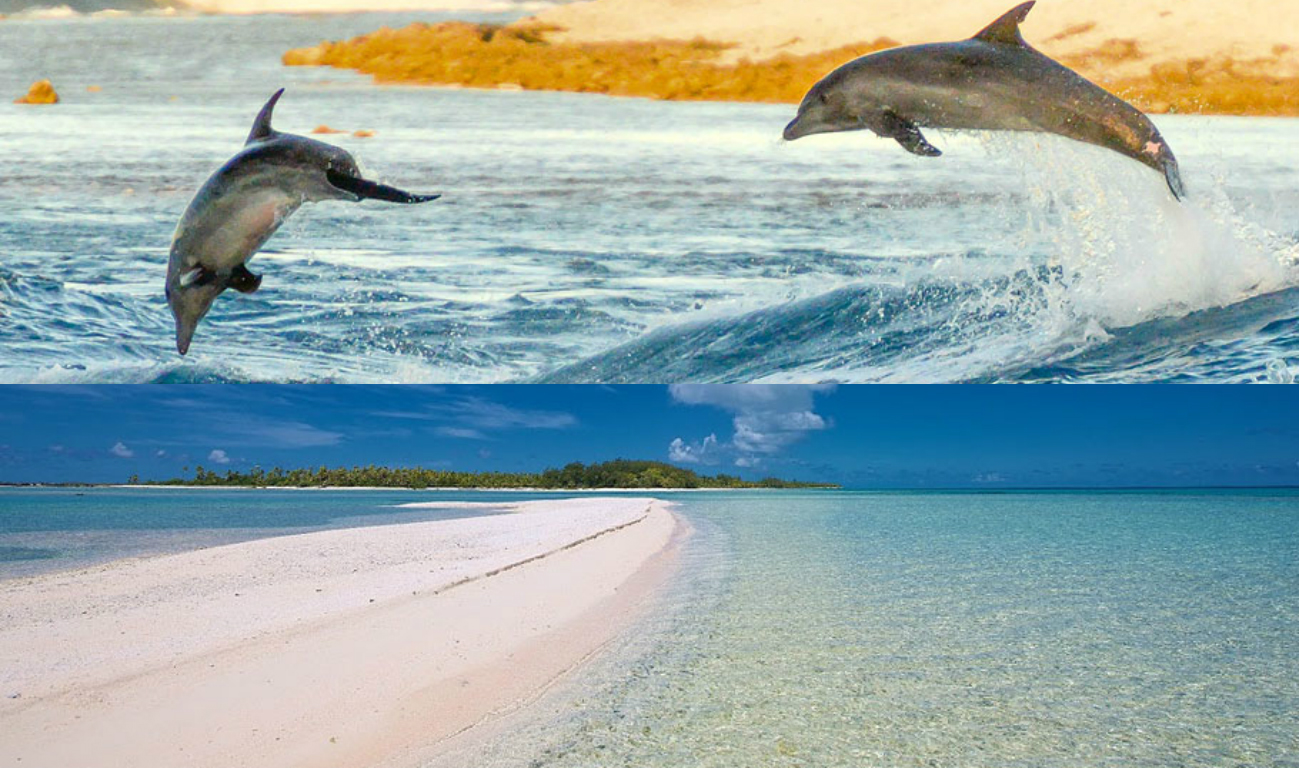 You can also visit the popular Blue Lagoon, which is a one-hour boat ride from Rangiroa Island. Other excursion destinations include the Pink Sand Beach and the Reef Island. They also hold a Polynesian Dance and BBQ buffet where you can immerse in the lively Tahitian culture, and join the festive local song and the elegant hula dance.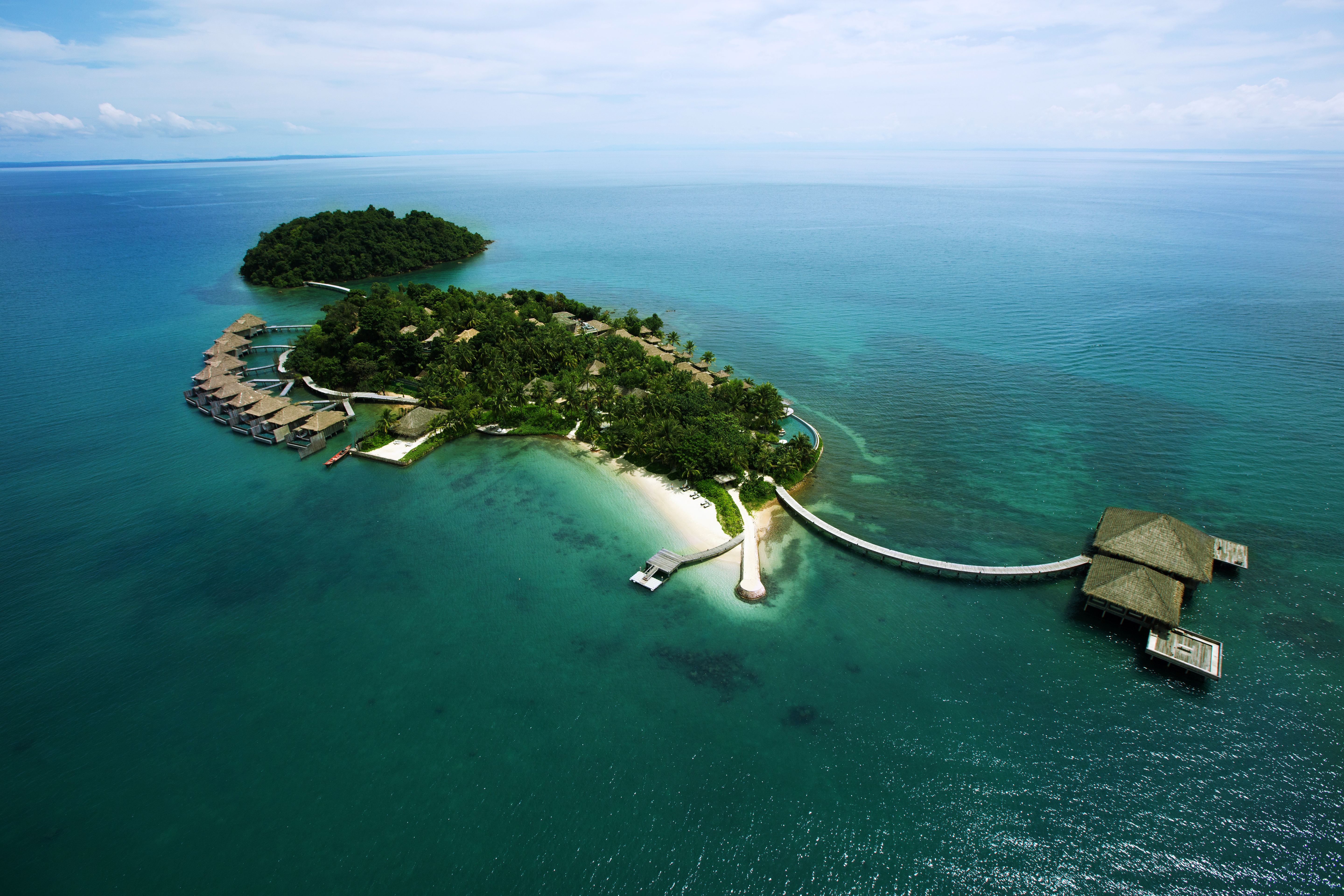 Song Saa which is Khmer for 'The Sweethearts' is the only resort in Cambodia's Koh Rong archipelago. Enjoy total solitude in this unscathed paradise filled with virgin forests and gleaming white beaches. The secluded island resort lives up to its name with its intimate overwater and ocean view villas with your own private cinema, and a boardwalk perfectly situated to relish the stunning panoramic views and starry nights.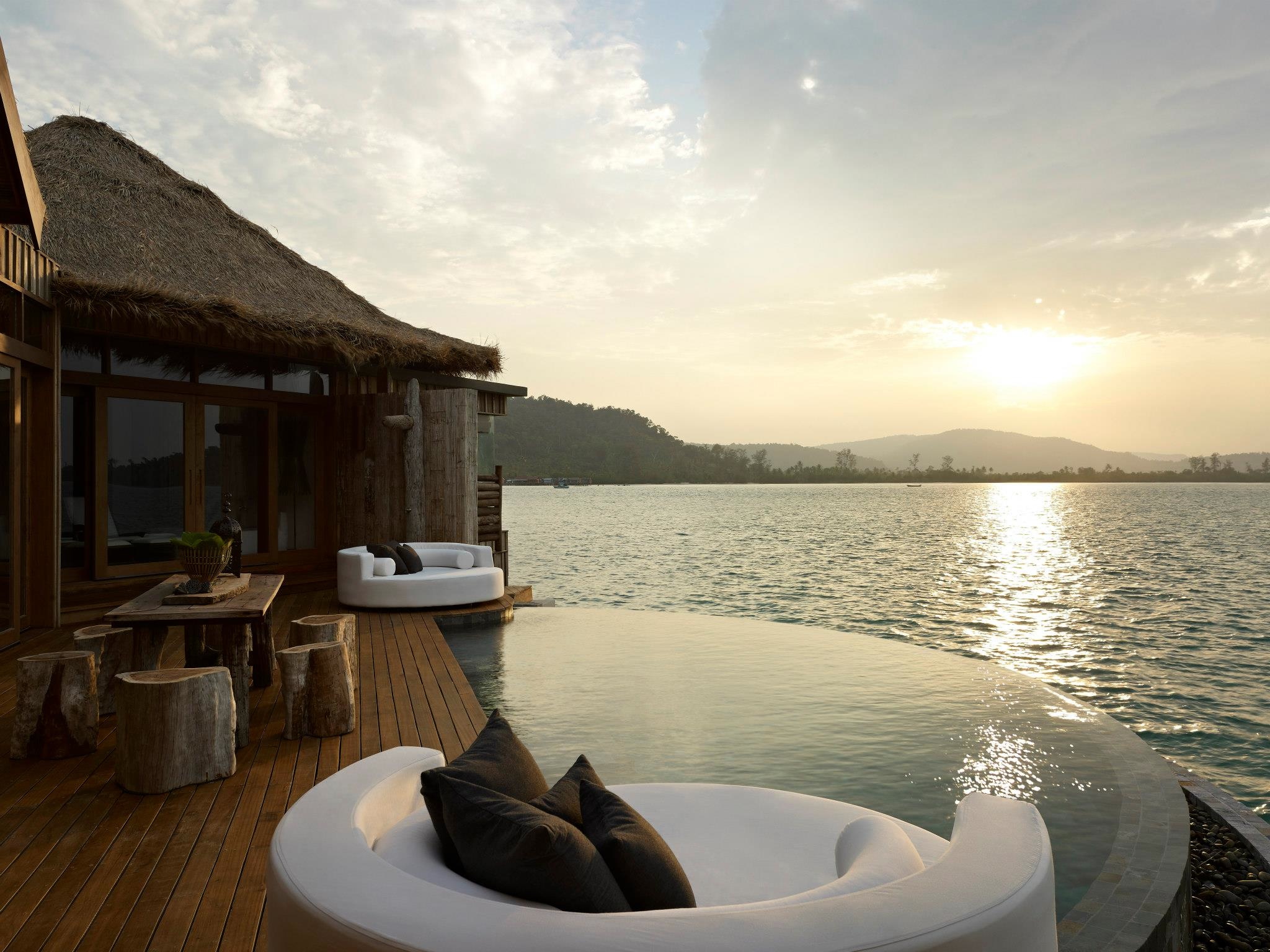 This exquisite island also features its own large infinity edge swimming pool, spa and wellness sanctuary, and yoga and meditation center. Go on tropical adventures with complimentary activities like island and marine safaris, rainforest encounters, nature treasure hunts, as well as Buddhist ceremonies.
22. The St. Regis Bora Bora Resort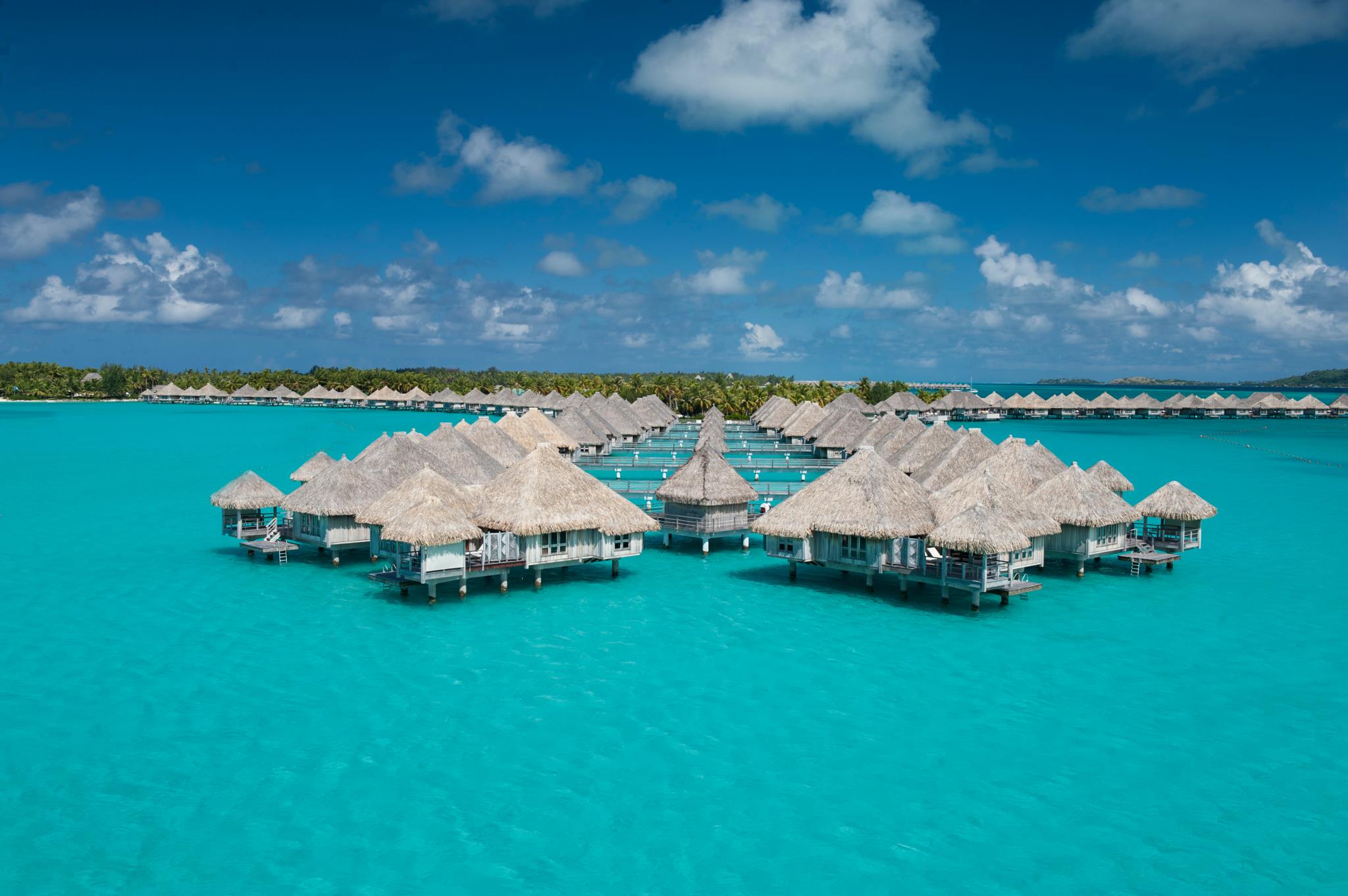 This resort offers the most exclusive island accommodation in the island. The St. Regis Bora Bora Resort will let you enjoy the most exquisite and cultural activities that will take your breath away and remain forever etched in your memories. Go trekking in their hiking trails in the magnificent Mount Otemanu, go diving in the purest blue waters and swim with native fish, rent scooters or bicycles and frolic around the island, or set sail in a beautiful sunset cruise.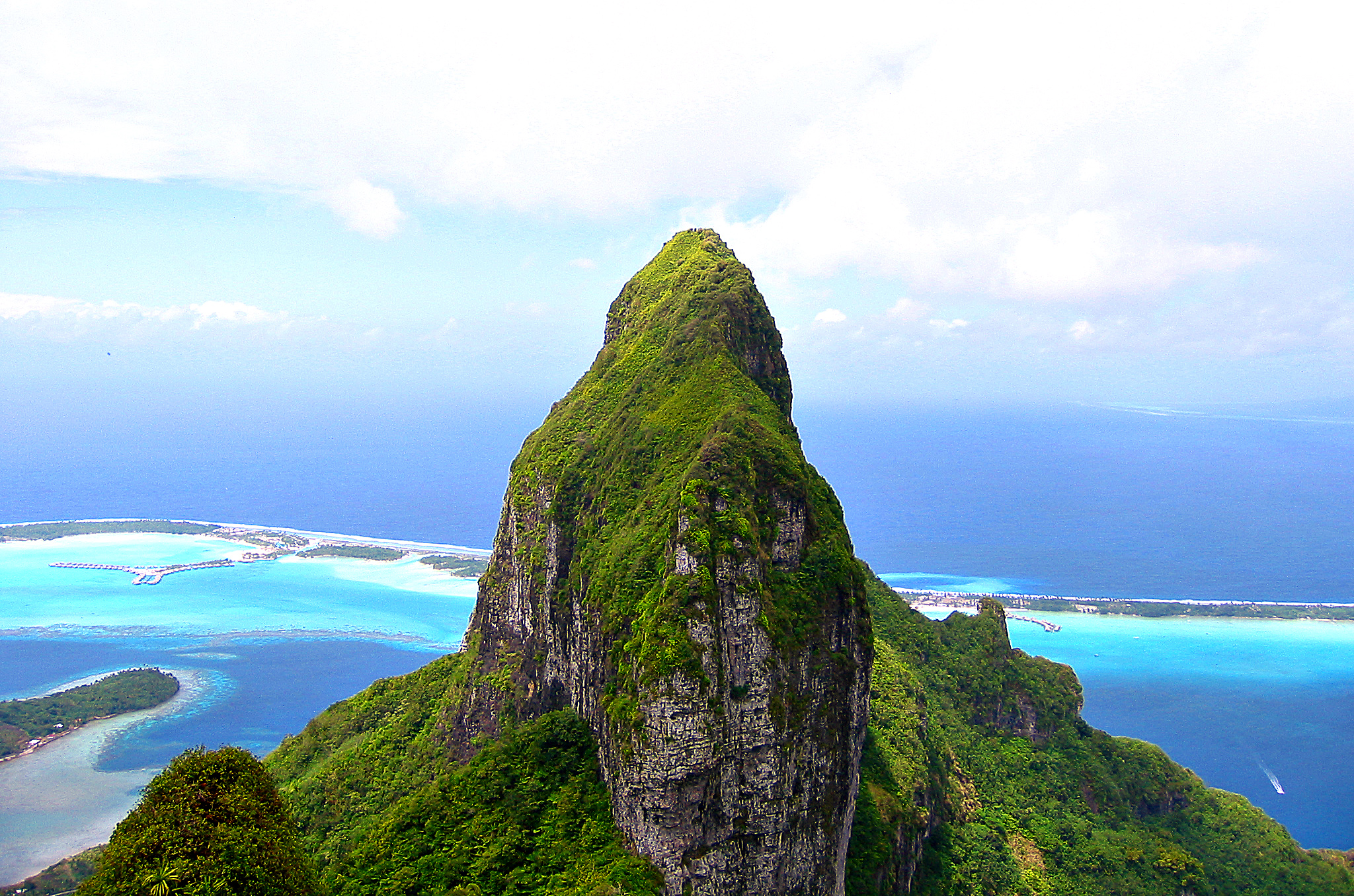 You can also visit the Lagoonarium where you can feed sharks and fish with the resorts very own biologist. They also offer a Romantic Concierge and Honeymoon service where they can arrange the most romantic vacation and include private excursions, sunset couple massages, romantic dinings and surprise deliveries during your stay.

We know we've got you dreaming of paradise…so why not come see it for yourself ? No matter where you go from here, we hope our list gave you the motivation to start packing and to get up and go! Travel is truly a life-changing experience, so make the time. Pause the daily grind. Find the sun and fresh air …and come find a new adventure with us!
As always, thank you for reading! To all of you out there venturing your way through a couple travel bucket list- have you stumbled upon a paradise we haven't yet covered? Well – we, (and all our couples reading along with us) would absolutely love to hear about it so please share!
With Love ,


Xox Just Oscar and Bello