We're travelling again! For us, travel is like surfacing the break for a breath of air, a chance to reconnect with each other after the craziness of daily career-juggling and an opportunity for heart-skipping adventures, even if it is just a quick-stick teeny get-away!
The thing I am beginning to notice though, is that… I don't think I can hang on to my notorious over-packing ways any longer! My dad disapprovingly swats my ponytail as he loads our (over-sized) luggage into the car on the way to the airport. The airport lady gives us another "last" warning for packing over the weight limit. The smiling bellhops in paradise make funny muffled noises as their smiles transform into bruxism overdrive. Overall, I can take a hint. I have never been a light packer. In fact I need to use my whole human weight to zip up my luggage, usually.
The Capsule Suitcase:
So. Here we are. A new leaf…and I am utterly baffled. The art of a capsule suitcase. Right. After hours of research, I am chuffed to present you with summarised cheat notes.
The Cardinal Trick: Trim the 'just in case' options. Pack with discipline and stick with tried-and-tested combinations.
The thing is, I am not one of those girls who can throw an outfit together on the spot, have it co-ordinate and walk out looking magazine shoot worthy. Nope. No way.
Since I really have no clue… ("blue and green should never be seen"—well, um, aren't most tropical island shorelines an incredible palette of aquamarine?! ) you may be pleased to hear I am at least good at sourcing credible references, the Royal College of Pinterest and a compilation of (the wide and varied opinions of) professional fashion bloggers here we go.
Expert Tips: Starting with the Weather Girl:
Check the weather : as simple as this sounds I have often forgotten to do this! If it's cold, high altitude or likely to have air-conditioning on steroids consider a scarf, a zip up, boots, or a versatile hat or cap. These are light to pack, layer well and can be mixed and matched to complete an outfit.
The Bootleg: From Beach to Cocktails:
Shoes, because Bello and I always hit a trek, a treadmill and usually some form of adventure tour we never leave without our sneakers and comfortable active wear.
Occasionally our trips are spiced up by a wedding or a function or two, otherwise date night always calls for something a little more martini worthy. Heels therefore are mandatory, one black pair (for cocktail affairs) and one cream pair (for pairing with daytime denim or light coloured dresses) for us girls and dress shoes for the boys. Lastly, beach, poolside lounging and holiday tanning is a must! So don't forget the humble flip-flops.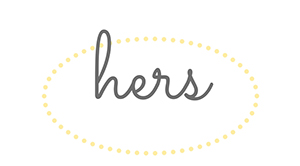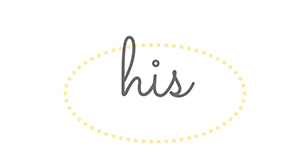 Evade the Fashion Police: With Post-It-Notes:
Write down outfit arrangements- is it just me or are post-it-notes simply one of the best inventions ever?! On my extended trip to Europe years ago, I actually categorically zip-locked clothes into singlets, shorts, skirts and jerseys. I wrote the matching and alternative combinations down on post-it-notes and pulled out a lucky-dip outfit daily. As childish as this sounds it was pretty darn fun and I could easily locate each item by my (OCD) ziplock bag category system. I tried to do this on our first trip together and Bello thought it was hilarious and forbade me. Apparently a luggage stuffed with packed zip-lock bags and post-its was going to get us both detained. I can understand the rationale there.
Moral of the story, it was fun and relaxing having clothing combinations pre-organised and pre-written. This is not a new tip for me, I just omit the Dexter looking ziplocks and fold my clothes now, like a normal person.
Packing Light: By Numbers:
Since I am the challenged one here with the over-packing impairment and Bello simply watches me and cracks up (not helpful), lets us girls just stick together here in this post. Boys can pack light. It's in their DNA.
The Unmade Bed Hit list (For Girls Only): Sticking to the Numbers
2 heels: black and cream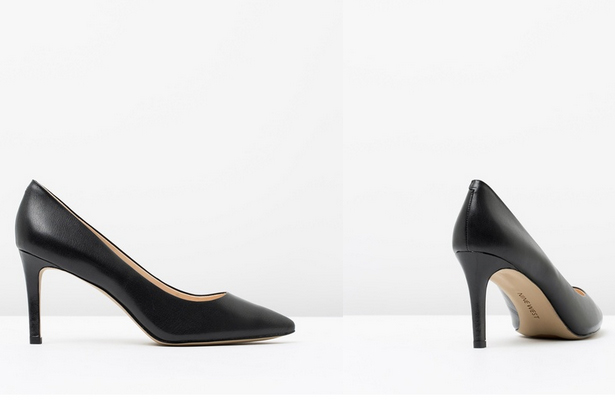 "Charly" By Nine West THE ICONIC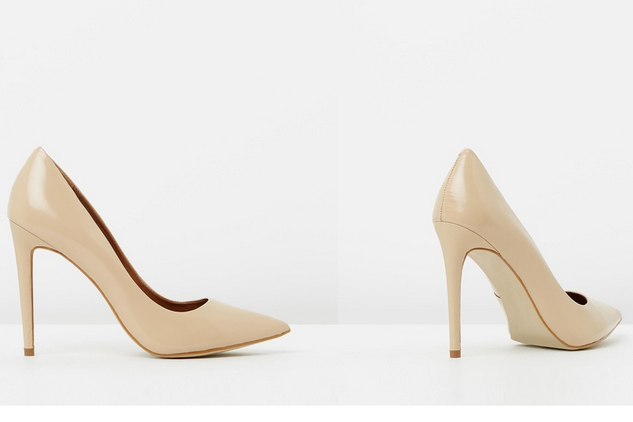 "Blush" By Steve Madden THE ICONIC
1 pair of sneakers and 1 pair of beachy flip flops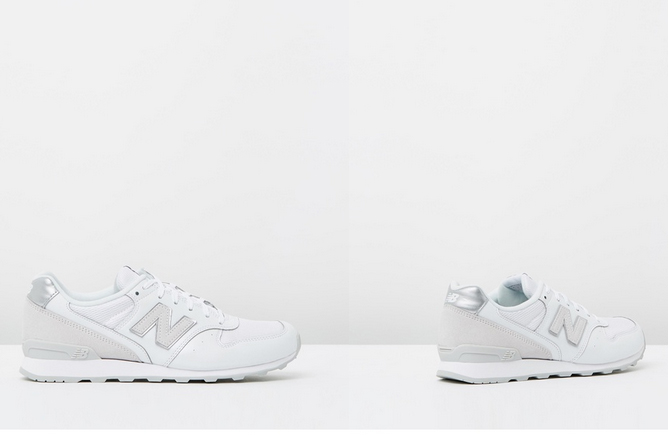 1 pair of jeans or jeggings and 1 pair of denim shorts to match all singlets and tees.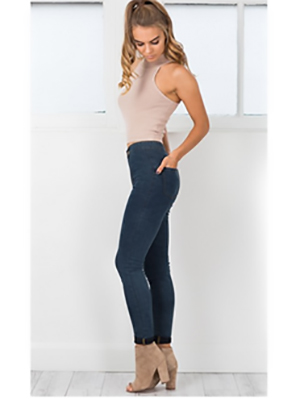 "Take On Me" Jeggings in Navy by SHOWPO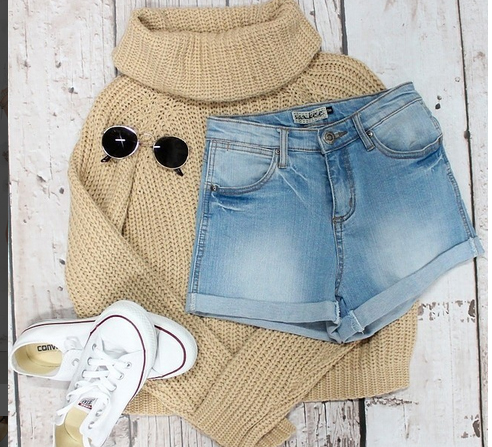 [Because singlets are lightweight I pack several of these for my capsule, 2 black and 2 white are amongst them, which works well for versatility for matching other layers and also is nice and neutral to go with any souvenir scarfs or accessories you may be sporting along your travels!]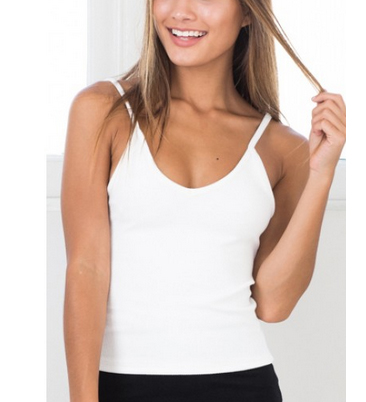 1 jacket that matches all singlet/tee/jeans/shorts combinations.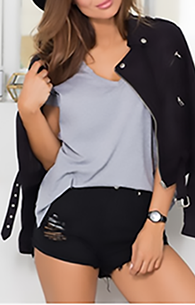 1 tailored skirt that can match with a singlet, top or button up for any semi-formal needs that crop up!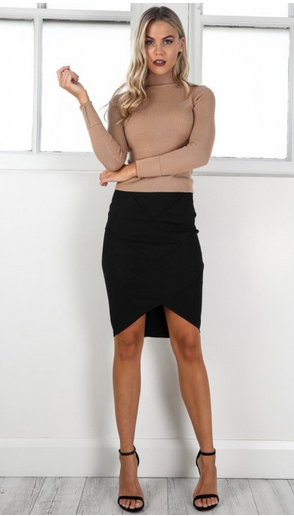 Specifically 1 long sleeved white button up t-shirt.
[Pair white button up shirt with:- a tailored skirt for smart casual, with jeans for culturally sensitive areas, or with shorts and bikini for beach and pool wear.]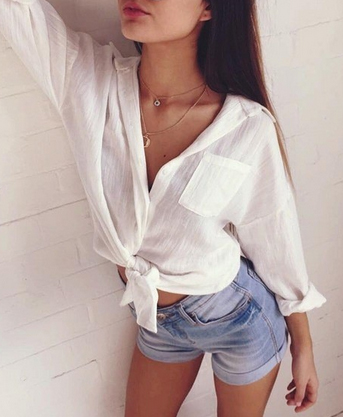 3 different bathers/bikinis: swap the tops and bottoms for different outfits, add a singlet or shorts or hat for different days.
1 slightly large purse for currency, ID, hotel key card and makeup.
Makeup- needs to fit into your purse that you carry everywhere. That is all. Bare minimum is key. For example: concealer stick, lipstick in two shades, eyeliner, eyebrow pencil/pomade, small eyeshadow compact, one bronzer/ contour pack and one blush.

Fool-proof Dark and Light Combinations:
1. Dark (outfit + coat) with Light (hat + gloves) with Dark (shoes + bag)
2. Dark (outfit) with Light (coat + hat) with Dark (gloves + bag + shoes)
3. Dark (everything) with Light (gloves)
4. Dark (everything) with Light (hat)
5. Dark (hat) with Light (everything)
6. Whatever you want but matching colour of shoes + gloves
"Are you ready yet?!" : The S.O.S Solutions
You're nodding coz you know what I mean. A hungry male is lurking and you needed to be ready for dinner like 10 years ago. Problem is it's a coat and tie venue …or it's not. Either way you are a girl and you need time to fix stuff dammit! Solution? Smuggle light weight, crease free dresses that exude that day to dinner flexibility. The trick to this is to find the right designer, let their other-worldy talents transform you…Then… Just zip it up. Voila! Automatic flattering cut, automatic colour co-ordination. Simply chuck on heels, perfume, lippy and walk on out! I pack 5 S.O.S solutions usually. These are maxi dresses, summer/cocktail dresses and playsuits which can be dressed up or down with jewellery and makeup. My current go to is by THE ICONIC and SHOWPO for designs that flatter and online service that beats the mob!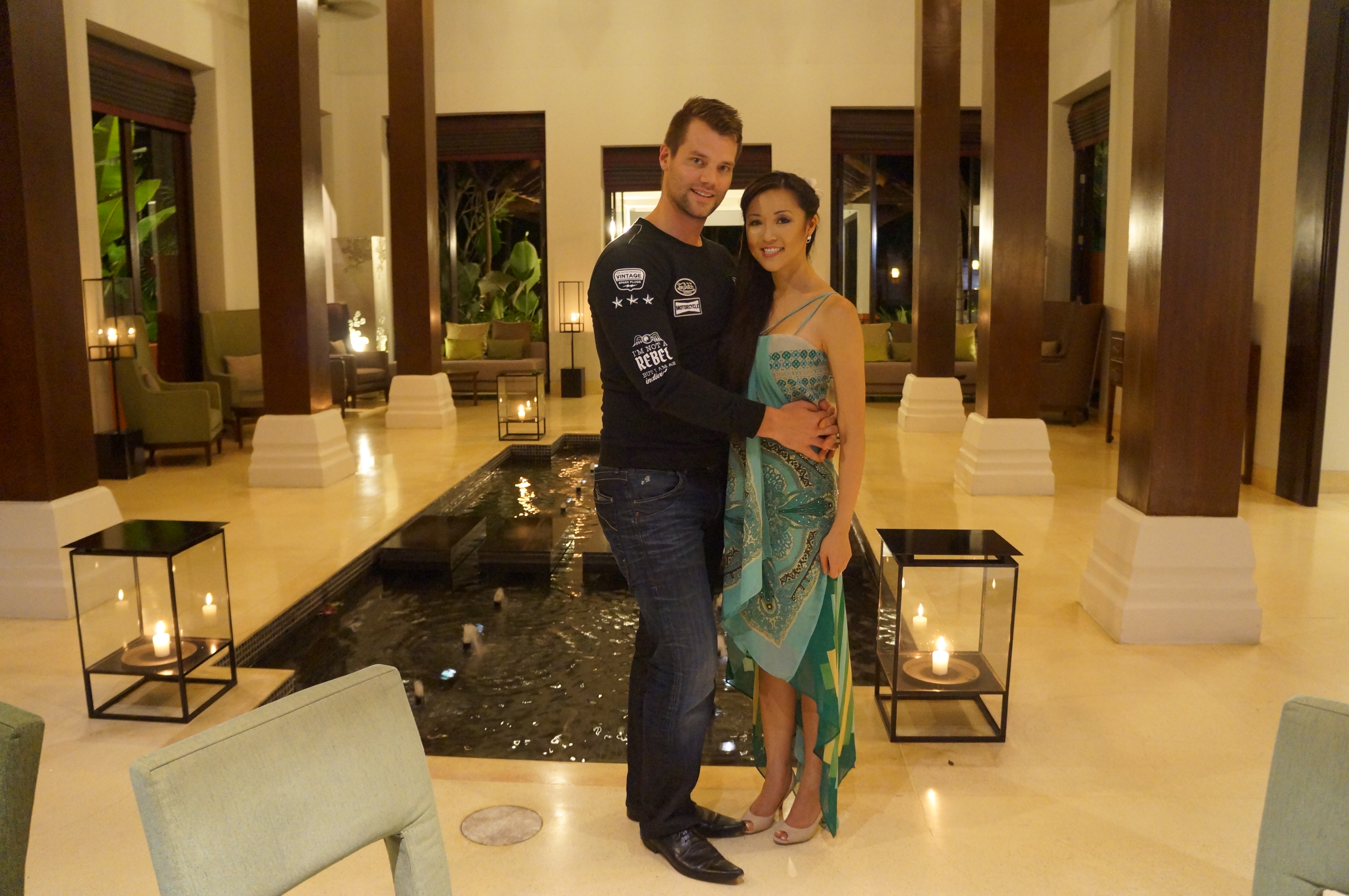 This is us in Koh Samui, straight from the pool! A very hungry Bello gave me five minutes to throw on a dress. Pool hair for dinner it is- every girl's favourite wish, to be rushed getting ready.
So, over to you. What are your travel tips for light-weight and fashionable holiday packing? Do you have any solutions for that hungry-male get-ready-fast S.O.S solution?!